Catching Up With... Matt and Kim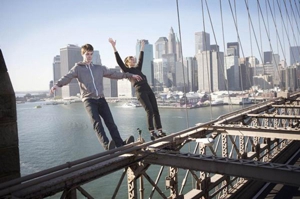 Matt and Kim's synthesizer-fueled mix of pop and punk is a Poland Spring bottle dipped in the fountain of youth and then sloshed over your sweaty head. When experiencing the couple's joyous live act, it's hard not to sing and scream along to tracks like "Daylight." A video accompanying the song exhibits Matt and Kim's adoration both for each other and for performing their tunes in tight quarters, such as a bathtub and the back of a gypsy cab. The track comes courtesy of their just-released sophomore album, Grand, a half hour of ruminations and exclamations dotted with references to their home base, Brooklyn, N.Y. Vocalist-keyboardist Matt Johnson is almost as animated during a phone conversation with Paste as he and drummer Kim Schifino are onstage. Matt, a known hip-hop aficionado, explains why he won't let vocoders off the hook, how he finally got Kim on the mic, and why the new album is Grand, but also grand.
Paste: Titling your album Grand sure could mean a lot of things.
Matt: I never thought of it as trying to say something like naming this album This Album is Awesome. People are like, "You know you're calling your album 'grand'." I never thought of it like that, but again, I'm just totally proud of this album. I might as well have called it Matt and Kim's Awesome Album, you know? I'm not nervous about it. The fucker is grand.
Paste: The title made me think of Grand Ave. near the Pratt Institute in Brooklyn, where you and Kim met, but also the stretch of street in Williamsburg. Is it both or neither?
Matt: We lived in [the Pratt] area for a while. We actually want to move back there. Now we live in Williamsburg on Grand St. over there. We found ourselves referring to it a bunch in our album before we named it Grand. It's shitty because we named a song on our last album "Grand," and it's just going to be confusing as hell.
Paste: Speaking of, "Grand" reminds me of Latin American music bumping out of car stereos.
Matt: That song was influenced by our neighbors here in our building across the hall. They've been here for like 20 years. That beat, that boom-cha-boom-chk, boom-cha-boom-chk, we'd hear all day, every day. We decided we gotta write a song with that beat. Just with the typical sort of Latin music beat. It's so generally used in so many songs. We just gotta get this beat out of our heads and onto a recording.
Paste: Tell me about the additional production work that went into the new album. On "Daylight," did you wheel an old piano into the studio?
Matt: It's a sampled piano, but an old, lacquered-key upright piano that's slightly out of tune. We went searching for that kind of thing. Most of the time, when you find something to use like that, it's just extra clean. We're nothing about being extra clean. This piano was sampled with mikes deep in the room. Out of tune and twangy. That's what Matt and Kim sound like. Not like a smooth grand piano.
The really predominant instrument in that song is a melodica. It's one of those little pianos you blow into. Buried deep there are some synth horns, but using the natural thing, using the melodica and just doubling the same instrumentation as the horns, it makes it feel more natural. I hear these albums—and it's one of my frustrations with a lot of hip-hop stuff—that feel like they were made on a computer. The organicness isn't totally there. [Jay-Z and Santogold's] "Brooklyn We Go Hard" has a really organic feel about it. It's awesome in a world that's completely dominated by computer music. Now with the vocoder being so huge, it's like even the vocals aren't like natural sounding anymore. It's getting to be a little much.
Paste: You did mess with your voice a little on this new album, right?
Matt: Yeah, but it's getting crazy in the world. I can't believe that every single song is like that. On our last recording, we did "Lightspeed" like that. We just cranked it up to 10. The only thing that we were thinking about was that Cher song. When I first started hearing it in hip-hop, it sounded rad. I guess you just hear anything too much and it gets a little overwhelming.
Paste: Is there anything about the Matt and Kim sound that you worry about wearing too thin?
Matt: Yeah. The sound that we used for all of the songs on our last recording, which I would consider very typical live Matt and Kim. We almost completely strayed from that on every song on the new recording. Not to say that songs live won't be played more like that. When we made this recording we just wanted to make the best recorded music possible. Recorded music and live music, there are very different things that make them good or bad. With recorded music, you need all of these little intricacies that people are going to notice on their headphones the 30th time they hear the song. With live music, you just need to keep it as stripped down, the melody [and] the beat as simple as possible and just a melody that people can hook onto. There's so much other shit going on in general with what they're seeing, how loud it is and people bumping into them. We've changed the songs a bit how they're played from how they are on the recording and how they'll be played live.
Paste: Is that Kim singing on "Lessons Learned"?
Matt: It is. I've been trying to get her to sing for years.
Paste: What finally pushed her over the edge?
Matt: I dunno. I was like, "At least just try it, Kim." I've gotta say it's one of her favorite songs on the album; I guess her second-favorite. She never wanted to sing ever. I would say, "No it'll be really cool. It'll add diversity and no one needs to hear me sing."
Paste: How do you feel about your role as a musical fountain of youth, of sorts?
Matt: One write-up I remember seeing that I really loved was: "One of the only bands OK to be in your late 20s and still crowd surf to." It's this sort of honesty. Without a bunch of layers, we're just fucking goofy and ourselves. People respond to it. I'm not here to try and look my coolest. I'm just here to have fun.
Paste: Will Matt and Kim ever grow up, or will you always seem as youthful as you are now in concert?
Matt: I feel like some people have these other personas. We're very much about being honest about everything. We are generally psyched to play. We've also had really shitty shows when it's brutally hot and we had to get through it. I'm not going to put on some smile or whatever. That makes all the difference because you can tell right away when someone's just fucking with you, pretending.
Paste: Onto a lighter subject, is it an ampersand ("&") in your name or just "and"?
Matt: That's been very confusing. Our record label told us we had to make a decision if it was ampersand or a-n-d. We like the way an ampersand looks, but for some reason, people don't type it in and a lot of people don't know what an ampersand is called. You know, the "and" symbol. For a while, with our first album, when it was first put up on iTunes, it was up as "Matt & Kim." If you wrote "Matt a-n-d Kim," you couldn't find our album. I feel like when it's written out, it's a-n-d, but whenever it's on a t-shirt or anything it's "&." As opposed to what our label would want us to figure out, we can't make a decision.
Paste: It sounds like a really grown-up decision to have to make.
Matt: We're not ready for that one.
Others Tagged With