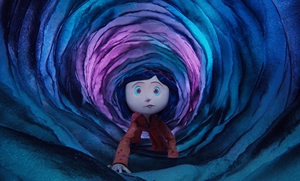 Release Date:
Feb. 6
Director:
Henry Selick
Writer:
Neil Gaiman (novel), Henry Selick (screenplay)
Starring:
Dakota Fanning, Teri Hatcher, Keith David
Studio/Run Time:
Focus Films, 101 mins.
German surrealism meets
Dora the Explorer
in animated tour de force
Stop Motion Animation is a misleading adjective to describe the stunning visual style of
Coraline
, the latest masterwork from visual auteur Henry Selick (
The Nightmare Before Christmas, James and the Giant Peach
) and acclaimed author Neil Gaiman (
The Sandman, The Graveyard Book
). While the film is the product of a technique that strings together still images of incrementally changing 3-D figures, there is absolutely nothing about it that is stationary. Selick and his team of animators have propelled the art into a kinetic experience of intoxicating wonder, where everything from melting snow to a cooking omelet moves with a fluidity previously unseen in the genre.
This modern update of Alice in Wonderland features Coraline (voiced by Dakota Fanning), a gawky adolescent who discovers a dark counterpart to her own mundane reality with a morbid doppelganger of her mother (voiced by Teri Hatcher). Unlike her birth parents, the "Other Mother" lavishes Coraline with attention in a glowing theme park of rodent marching bands and Technicolor gardens. Coraline soon discovers her new guardian's intentions to be less benevolent than her maternal disposition, forcing the young girl to match wits with her captor and escape from her twisted dream world.
For fans of Selick's Nightmare Before Christmas and Gaiman's Sandman comic series, this journey will feel invitingly familiar. Coraline's imagery of sparkling button-eyed dolls and Lewis Carroll allusions (Keith David is especially suave as the Cheshire Cat) culminates in a legacy of frame-by-frame creep shows that dates back to stop motion pioneers the Brothers Quay and Jans Svankmajer. Gaiman's gothic fable gives Selick the perfect strata to wrap his fevered imagination around, sucking viewers into a psychedelic rabbit hole of vivid 3-D immersion perfectly in line with his predecessors' aesthetics.
The plot might stretch the tolerance of parents with young children, though. In addition to a Terry Gilliamesque scene where a retired vaudeville star sings about the size of her bustier, a palpable sense of dread permeates Coraline's surrealist journey. While it's execution is staggeringly beautiful, little ones might not understand why anyone would sew buttons onto their eyes or a mechanized praying mantis would attack a child. But the movie possesses such an originally frightening mix of swirling sprites and whimsical novelty, adults will find themselves just as enchanted by this wondrous spook show as their kids. With its silky visuals and breathtaking creativity, Coraline is one of the few modern features to prove that Pixar doesn't have a monopoly on animated excellence.
Watch the trailer for Coraline:
Others Tagged With