Diablo Cody to produce Zombie-book adaptation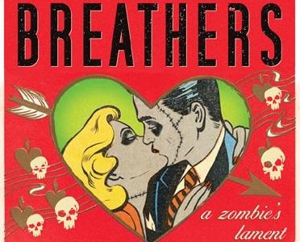 Diablo Cody will continue her streak of cannibalism and strong female characters by producing the adaptation of Breathers: A Zombies Lament. The paperback for Breathers, written by S.G. Browne, will be released March 3.
This will be Cody's second horror film since she penned her Oscar-winning debut Juno, which prompted hordes of Negative Nancys to do get their hate on. Criticized for everything from its witty dialogue to its supposed secret conservative agenda, Juno also inspired teen-pregnancy pacts and a spike in hamburger phones sales. Oh, and it was also Paste's #1 movie of 2007.

Where were we? Ah yes...

Cody completed the script for her forthcoming horror movie
Jennifer's Body
after
Juno
was written and before it had a theatrical release. Talking to the
L.A. Times
about
Jennifer's Body
, Cody said, "
Juno
is a life-affirming movie, and this is a death-affirming movie. The people who really loved 'Juno' - I don't know if they'll love this in the same way. And the people who hated
Juno
, well, this will just be more grist for the mill."
Jennifer's Body,
due for release Fall 2009, is essentially a horror comedy (heavy on the horror towards its second half) about a cheerleader who becomes possessed by a demon and begins eating her classmates. While Cody may be trying to deflect some of the hate by taking a producing credit on
Breathers
, it's just as likely that she took on the role of producer to get more experience with actual filmmaking in a step toward her ultimate goal of one day directing horror movies.
The script for
Breathers
is written by Geoff LaTulippe (
Going the Distance
) and is a romantic comedy that takes place in a world where zombies are an everyday part of life, albeit stripped of all of their rights and attending zombie support groups.
Related links:
Others Tagged With