God of War III details arrive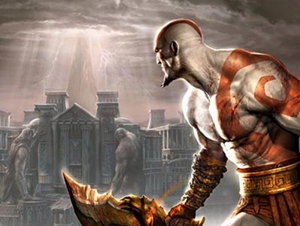 An extended trailer for God of War III for the PS3 is up and shows an impressive scale to the final installment of the trilogy, which is currently under development and scheduled for release in the fourth quarter of 2009.
The gameplay footage from the trailer is enough to make any action fan salivate. It reveals the scale of the game as Kratos warms up by killing an armored centaur and progresses to unleash copious quantities of carnage utilizing wall hops as he swings his blazing swords in wide arcs by the attached chains. The action is quick and dirty and reveals some new innovations to the game.
IGN
reported
that Stig Asmussen, director of
GOW 3
said, "We're going to be introducing groundbreaking gameplay this time around and that all starts and ends with our Titan gameplay." At the end of
GOW II
Kratos rides on the back of a Titan towards the distant peak of Olympus. In
GOW III
, he command the Titan Gaia (who Asmussen has said is the size of the Sears Tower) through hordes of enemies and to scale Mount Olympus. Much of the action in the trailer, which expands over a vast area, is revealed to have taken place on the back of a Titan making its way towards the summit of Olympus.
New innovations to
GOW III
also include the ability to harness Kratos' enemies to your advantage while solving puzzles, crossing chasms or while in combat. At the end of the trailer, Kratos is falling and saves himself by grabbing a gigantic eagle, which he steers for a short distance before eviscerating it and jumping into the next melee.
Deadly new weapons have been promised by developers and the Cestus gauntlets that resemble wolves-heads and entirely engulf Kratos' hands are revealed to make him a smashing machine. Wait for Kratos to battle Zeus himself with baited breath.
Others Tagged With