Hasbro, Gore Verbinski to remake Clue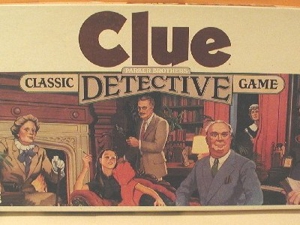 Hasbro's at it again, with another project aiding its quest to flood the box office with board-game movies. (You might say they have a
Monopoly
on that particular market. Zing!) This time it's with
Clue
, which is actually a remake. (You might recall a little film from 1985 with a buxom french maid and Tim Curry's horrific smile. Here's a quick
refresher
.)
The new film will be directed by Gore Verbinski (Pirates of the Caribbean), and will add to Clue's already impressive earnings (it's one of the only board games to surpass $1 billion in sales).
Other Hasbro properties are coming to theaters this summer as well, such as
G.I. Joe
and the
Transformers
sequel. We
reported
previously on the upcoming production of
Candy Land
to be written by Etan Cohen (
Tropic of Thunder
) and directed by Kevin Lima (
Enchanted
). Be warned, though, because other board-game-to-film adaptations are on their way:
Monopoly
(directed by Ridley Scott), Ouija (produced by Michael Bay's Platinum Dunes company), and Stretch Armstrong (currently optioned by Universal).
Others Tagged With