He's Just Not That Into You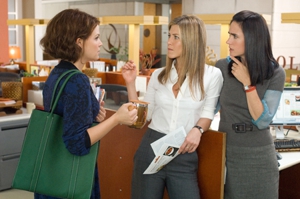 Release Date: Feb. 6
Director: Ken Kwapis
Writers: Abby Kohn and Marc Silverstein, Greg Behrendt and Liz Tuccillo (book)
Cinematographer: John Bailey
Starring: Jennifer Aniston, Justin Long, Jennifer Connelly, Scarlett Johansson, Ben Affleck

Studio/Run Time: New Line Cinema, 129 mins.
He's Just Not That Into You is a fiction film based on a non-fiction book of the same name, a book that aims to give some tough love and harsh truth to women looking for Mr. Right. But as I was watching the film I began to imagine that it was based on another non-fiction bestseller: Malcolm Gladwell's Blink. With anecdotes and pop science, Gladwell observes that experts of all types seem surprisingly good at making instantaneous assessments, using a mysterious reflex of the human brain to size up a painting in the blink of an eye, say, or give a job candidate a thumbs-up or -down upon stepping into the interview.
As if to explore that very topic, screenwriters Abby Kohn and Marc Silverstein have come up with several interwoven vignettes about people who can—or desperately want to—measure a man's fitness for a long-term commitment in the blink of an eye. It's a narrower domain than Gladwell had in mind, but snap-judgments are the unifying theme of these romantic entanglements, and to hold our interest in this scientific effort, director Ken Kwapis has drawn top-shelf actors from a certain age, ethnic, and beauty range: Jennifer Aniston, Justin Long, Jennifer Connelly, Ben Affleck, Scarlett Johansson, Drew Barrymore, Bradley Cooper and Kevin Connolly. And he's stirred them into a romantic comedy soup.
Despite the claim that this is not your usual feel-good story about women obsessing over men, despite the tacit acknowledgment that these women have careers and lives, and despite the presence of at least one female character who's not interested in marriage, all of the women in the film are defined by their attitudes toward romance. Drew Barrymore's character is a magazine publisher, true, but what she talks about when we're watching are guys, dishing with the gay, sexless co-workers who always seem to decorate the edges of such movies, thrilled to live vicariously through their friends.
Barrymore is effortlessly charming in her small role—with a cast this large, they're all small roles—and she gets in a few good shots at the way technology affects modern dating. Connelly brings surprising intensity to the role of a busy woman who's increasingly doubtful about her husband's honesty, and even Ginnifer Goodwin playing the most annoying, needy, naïve woman in the film manages to grow more appealing by the end. Kwapis is juggling a number of couples, but he smoothly keeps each one aloft until it's time to wrap it in a pretty bow, then brings everything to a halt in a conclusion that's calculated to avoid seeming like an across-the-board fairy tale while still stroking whatever it is that needs stroking. To me, it's a shallow, sitcom view of complex human interactions, but if Malcolm Gladwell is right, you'll probably know whether this film is for you after watching a few seconds of the trailer.
Watch the trailer for He's Just Not That Into You:
Others Tagged With