Steve Balderson's Watch Out arrives on DVD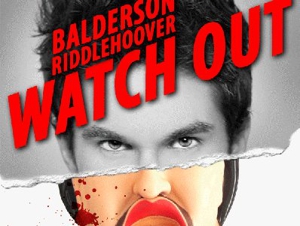 Steve Balderson's 2008 feature film, Watch Out, about a man in love with himself (erotically) who eventually attempts to assassinate Britney Spears, is now available on DVD.
Balderson's previous film, Firecracker, featured Karen Black (Five Easy Pieces) and Mike Patton of Faith No More/a qullion other bands fame. The movie was praised by Roger Ebert and also listed as a Special Jury Prize recipient on Ebert's 10 best movies of 2005 list alongside heavyweight Hollywood movies like Batman Begins, Capote, The Constant Gardener and Hustle and Flow. Firecracker was made for a little over $300,000 but the production value rivals most multi-million dollar studio productions. Watch Out was reportedly made for only $200,000.
Balderson has shot his three feature films independently in
Wamego, Kan
., far from the studio system. He releases his films theatrically in true indie fashion similar to a concert tour. There was the "Freak Show" tour for
Firecracker
and the "Stop Turning Me On" world tour for
Watch Out,
each playing in about 20 cities.
Says Balderson, in an e-mail to Paste: "I've found that by raising ticket prices to $35 or more, and showing the film for only one or two nights, people come out for the event and we sell out each venue."
Sometimes the actors are present for the screenings which have also incorporated burlesque dancers and bands. "We make it an 'official' event instead of the old humdrum film showing," he says.
Watch Out

is based on the novel by in-your-face author Dr. Joseph Suglia, who dubbed himself via MySpace "The Greatest Author in the World." Suglia has claimed in an interview that "every other American 'writer' writes like your average 12-year-old..."
The story is about Jonathan Barrows (
Matt Riddlehoover
), a man so in love and obsessed with himself that everyone else can't help but be obsessed with him as well.
The film adaptation of
Watch Out
premiered at the Raindance Film Festival in London, where it was nominated for Best International Feature and has been invited to the Boston Underground Film Festival in March.
Watch Ou
t
is pretty much guaranteed to be controversial and disturbingly funny. It's also not rated and guaranteed not to be for children...or some adults, for that matter.
Firecracker
will be showing in Macon, Ga. on Feb. 22 as part of a tribute to Karen Black who will be on hand. Balderson will also be in attendance.
Others Tagged With