It's official: Ticketmaster/Live Nation merger announced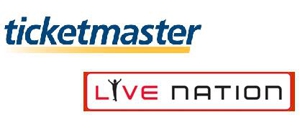 After a week of keeping mum, Live Nation and Ticketmaster have finally owned up to their big, fat, potentially-monopolizing lovechild of a deal.
Announced officially earlier today, the two mega-companies will soon become one, barring any qualms with the anti-trust authorities. The deal went down for a
reported
$400 million, with Live Nation purchasing Ticketmaster. Live Nation Entertainment, as it will now be called, will have a tight grip on the live entertainment industry, including the management of some 200 high-caliber artists like Jay-Z and Madonna.
The company outlined some of its main objectives, which include improving access, transparency and ticket pricing options, investing in better ticketing technology and increasing event attendance. Appropriately ambitious goals for a corporation that has already claimed the title of the world's "premiere live entertainment company," granted. But many fear that such a powerful merger might make them the
only
live entertainment company, which could spell trouble for smaller promoters, ticket buyers and secondary market sellers.
Check out
this analysis
from Billboard.com for potential pros and cons.
Others Tagged With