Joaquin Phoenix Atlanta rap gig not actually happening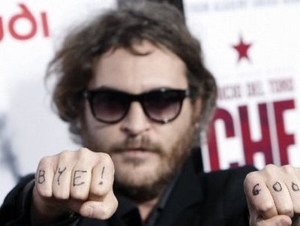 Paste, along with various denizens of the general public, has recently puzzled over the odd behavior of Joaquin Phoenix. The Oscar-nominated actor seemingly turned his back on his profession, vowing to never act again and instead to devote himself to the vagabond lifestyle of a musician (a rapper, at that). Our coverage of his awkward (drug-induced? staged?) minutes on David Letterman still clings doggedly to our most-read list weeks later. That's why a MySpace bulletin that arrived earlier today stating in bold letters that "Joaquin Phoenixx" [sic] would bring it to our doorstep, Paste's hometown of Atlanta, tonight at 10 p.m at Lenny's Bar, seemed just a little too good to be true. Would Phoenix really throw down in the ATL?

A call to Lenny's found a somewhat good-humored (for now) employee who said he'd been fielding calls all day about Phoenix. While he said he'd been off for a few weeks and wasn't in the know, he did coyly suggest that, "If Phoenix does show up, he might not even be performing. He might just be watching the act. That happened awhile ago with Fantasia."
Our skepticism grew. In regards to the bulletin, one
Paste
editor noted, "I find egregious typos and random blurts of all-caps, non-sensical babbling always lend credibility to these sorts of announcements." Others remained hopeful. After all, Examiner.com
confirmed
that Phoenix would indeed be at Lenny's. The article went on to state, "This is 100% legitimate and has been verified by a Lenny's employee."
Unfortunately, just moments after perusing the article, we heard otherwise. An e-mail from an Atlanta concert promoter read, "Spoke to Bean [Summer, booking agent for Lenny's], the announcement was the promoters idea of a joke. According to him it's 100% not true. He's getting the announcement taken down."
Sadly, reason prevails and another Internet rumor dies an agonizing death. While David Letterman roundly denied to invite Phoenix as a musical guest on his show (laughing at the request even), an open invitation stands for the newbie rapper to record
live at
Paste's
studio. Bring it on, Joaquin. We'd love to have you.
Others Tagged With