Joaquin Phoenix and David Letterman get awkward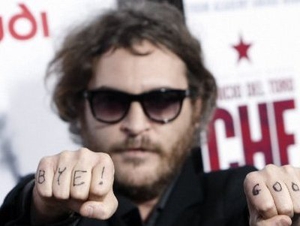 So it's about time to start a new office pool, if you haven't already. Is Joaquin Phoenix's switch from acting to hip-hop some sort of hoax, or is he simply losing his mind? Maybe a more pertinent question is whether his recent subdued behavior on David Letterman was caused by some sort of chemical influence or if Phoenix was simply in character as a part of his continued quest to punk the world.
Hiding behind a pair of shades, Phoenix managed to get some monosyllabic responses to routine questions past his thick, mane-like beard. Other times he just let Letterman's questions thud, and stared out a) at the audience's laughter at his aloofness, or b) down into his lap. Whether aided by drugs or not, Phoenix certainly contributed to some of the most awkward 11 minutes in the show's history.
Seven excruciating(ly awesome?) moments from the interview:


1. Letterman: "It's my hope that after some time off (I think you're taking some time off tonight), you'll reconsider and come back to acting, because there's really no one better than you are."
2. Joaquin: "I do more of the
hip-hop music
.
[Audience laughter] Is this a joke?"
3. After being stonewalled repeatedly, Letterman asks, jokingly, "Do you have any fun stories to tell us?" [Letterman laughs and is met by Joaquin's silence.]
4. Phoenix: "I'd love to come on the show and perform."
Letterman: "You know, that seems unlikely."
[indignant stare from Phoenix]
Phoenix: "[mumbles] I've seen some of the other guests, David, and I can't believe..."
Letterman: "We'll certainly keep you in our Rolodex."
5. After Letterman cracks a joke at Joaquin's expense, he says, "We're having fun."
Phoenix: "Is that fun?"
Letterman: "I'll come to your house and chew gum."
6. Letterman: "So, how was your time with the Unabomber?"
7. Letterman's final words from the interview: "And Joaquin, I'm sorry you couldn't be here tonight... We owe Farrah Fawcett an apology."
Letterman is alluding to Farrah Fawcett's
interview
with him in 1997. He's had a few uncomfortable interviews over the years, including when Crispin Glover gave a "performance piece" unannounced as a character from the film
Rubin and Ed
. (The interview ended mere minutes in when Glover nearly kicked Letterman in the head with his platform shoes.)
That Letterman referenced Fawcett's appearance out of the pantheon of weirdness he's seen may be his indication that he thought Phoenix was under the influence. During the Fawcett interview her skittish behavior, minutes-long searches for everyday words and meandering stories that led to nowhere (During one she turned around, looked at the cityscape prop and exclaimed, "Wow!") gave the impression that she was on some kind of illicit substance. At one point, in fact, after Fawcett picks up a magazine and asks, "What does that say?" Letterman replies: "I don't know. Seek a 12-step program."
If Phoenix's appearance was a put-on, it brings to mind Andy Kaufman's shenanigans, especially his
appearance
with wrestler Jerry Lawler on Letterman. Occasionally, it looks like Phoenix cracks a slight smile at some of Letterman's more sly insults of his person. At any rate, indulge yourself in the juxtaposition between Phoenix's previous visit to Letterman and his most recent bombing of the show below. After all, it's Friday afternoon!
Related links:
Others Tagged With