Kid Rock's stimulus package calls for more Kid Rock beer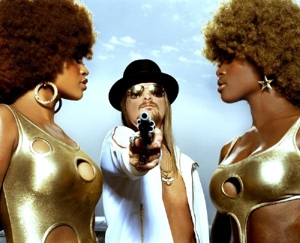 HOUSE FINANCIAL SERVICES COMMITTEE MINUTES: 2/19/09

(Chairman Barney Frank called the committee to order at 9:25 a.m.)

Rep. Frank: Uh, yes... the committee will now hear testimony from the gentleman from Detroit on his plan to bolster the national economy and spark job creation.

Kid Rock: MY NAME IS KIIIIIIIIIIIIIIIIIIID....

---

And so it was that Robert James "Kid Rock" Ritchie revolutionized macroeconomic theory. Or, something?

In all seriousness, Congress probably won't be calling Mr. Ritchie to testify any time soon. But with industry in his home state of Michigan receding toward oblivion, America's favorite badass isn't sitting idly by.

In fact, he's making the utterly selfless gesture of starting his own beer line. Not to boost his personal brand name, mind you, but in the name putting Americans to work. Hey, Ben Bernanke, you putz: take notes.

As the Detroit Free Press reports, the Michigan Brewing Company scored a tax credit of $723,000 from the Michigan Economic Growth Authority toward the development of a fleet of Kid Rock-branded adult beverages. The brewer plans to invest $7 million in the project over the next few years, which will feature a great deal of design work and creative input from the Kid himself.

In the process, Michigan Brewing Company will add over 150 employees to its current staff of eight. You read that right: the magic of the Kid Rock brand name will multiply this company's employment roster almost twentyfold. The DFP article says Rock's beer will actually create a total of 394 jobs statewide, due to all of the manpower needed to brew, package and promote the sure-to-be-classy drinks. It's proof that America can, indeed, drink its way out of this recession.

All that's needed now: a name for the beer line. Have some juicy suggestions? The comments section below lies at your disposal.

(And the commenters on Kid Rock's official site have a few to get you started).

Related links:
KidRock.com
Sweet Talk: Journey vs. Bon Jovi vs. Kid Rock vs. Seger
MichiganBrewing.com

Got a news tip for Paste? E-mail news@pastemagazine.com.