Leonard Cohen plays U.S. show, releases live CD/DVD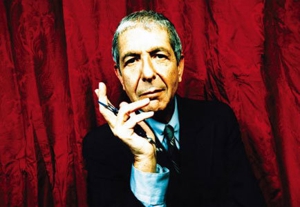 Last year, Leonard Cohen announced an ambitious tour for the first time in 15 years. But much to Paste's chagrin, the Canadian singer, songwriter and poet skipped the States and headed straight overseas, to Portugal, UK, Sweden and Greece, among other locales.
But our hearts are now rejoicing (or at least the hearts of our Big-Apple
readership
are), because Cohen is finally gracing us with his presence. This Thursday, Feb. 19, he will perform at New York's Beacon Theatre.
Perhaps to soothe his ruffled conscious and all the other lonely U.S. cities, Cohen is also inviting us to participate in last year's epic tour, if only by disc. On March 31, he will release
Live In London
through Colombia Records. As the name suggests, this two-disc compilation documents Cohen's performance on July 17 at London's 02 Arena, where he sang classic songs from his catalogue of the last 40 years.
On Friday Feb 13, the disc became available for pre-sale through
Amazon
and Cohen's performance of "Suzanne" became available as a stream. It may not be a States-wide, 20-city jaunt, but it'll have to do for now.
Tracklist:
1

. Dance Me To The End Of Love


2

. The Future


3

. Ain't No Cure For Love


4

. Bird On The Wire


5

. Everybody Knows


6

. In My Secret Life


7

. Who By Fire


8

. Hey, That's No Way To Say Goodbye


9

. Anthem


10

. Introduction


11

. Tower Of Song


12

. Suzanne


13

. The Gypsy's Wife


Disc 2




1

. Boogie Street


2

. Hallelujah


3

. Democracy


4

. I'm Your Man


5

. Recitation w/ N.L.


6

. Take This Waltz


7

. So Long, Marianne
8

. First We Take Manhattan


9

. Sisters Of Mercy


10

. If It Be Your Will


1

1

. Closing Time


12

. I Tried To Leave You


13

. Wither Thou Goest

Others Tagged With