Mika Miko preps We Be Xuxa, southwest tour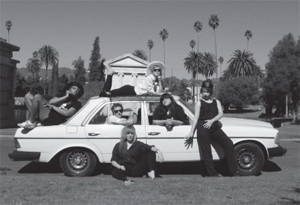 Rising like the phoenix from the bones of the Dead Banana Ladies, So-Cal punk purveyors Mika Miko carved out a broad swathe of the frenetic L.A. landscape with their legendary live sets and willingness to play anywhere, anytime. With an army of fans at their backs and legions of potential converts poised to strap on some canvas sneakers and pump their fists, Mika Miko just announced (via their label, Post Present Medium) that their forthcoming sophomore LP We Be Xuxa is go for a May 5 release on PPM.

Naturally, there's gonna be a couple tour dates to complement the forthcoming LP. They'll be kicking off in Los Angeles before trekking across the American southwest. The band says in their bio that they'd rather play at a children's birthday party (or a library) than a club gig, so if you can't make it to one of these shows, follow the trail of balloon animals and giggles:

March
3 - Los Angeles, Calif. @ Kerckhoff Grand Salon (UCLA)
16 - Los Angeles, Calif. @ The Smell
17 - Phoenix, Ariz. @ Trunk Space
18 - El Paso, Texas @ Black Market
19 - Austin, Texas @ SXSW PPM Showcase
21 - Austin, Texas @ SXSW Panache Booking Showcase
22 - Austin, Texas @ Beerland
23 - Odessa, Texas @ Roadhouse
25 - Tucson, Ariz. @ Club Congress

Related links:
Mika Miko on MySpace
Mika Miko on PPM
YouTube: Mika Miko/No Age in a library

Got a news tip for Paste? E-mail news@pastemagazine.com.

Others Tagged With