Portishead asks fans for music distribution advice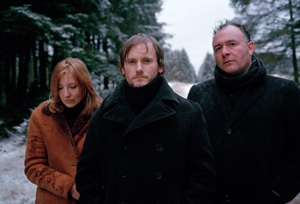 In one simple word, the world of music distribution changed 10 years ago: Napster. Although the free download service only lasted two years (the Napster that currently exists is a pay service, Roxio, that bought the name and logo), it forever altered the way we buy and listen to music. Since then, numerous bands have, perhaps at times against the wishes of their record companies, stepped forward and offered unique ways to distribute music. Radiohead, of course, comes to mind. The Raveonettes released a bunch of digital-only EPs last year. Irish pop-rock trio Ash announced it would no longer produce albums. The Damnwells offered their new album free of charge through Paste exclusively.You get the idea.

Why the long explanation? Because it appears electronic-noir innovators Portishead could soon be joining the ranks digital innovators. In a message to fans through MySpace, Geoff Barrow of the group essentially asked if anyone had thoughts of how the trio should move forward now that it's no longer under the constraints of a record label. "With the world being the way it is, there are lots of options open…but if you lot have any bright ideas of how we should sell our music in the future lets us know, why not! I dont think that we're into giving out music away for free to be honest…it fukin takes ages to write, and we have to heat our swimming pools!!!" Don't want to give that up anytime soon. But the blog entry generated a pretty solid response (96 replies on two pages at the time this was written) with users advising everything from flash drives to the Radiohead model to continued use of vinyl. Of course, there were the "You guys rock. Come to [insert location here]" comments aplenty, too, but still.

All of this comes less than one year after the band came out of hiding and released its third and very successful album, the aptly titled Third. When you have success, it's much, much easier to garner publicity for your actions, not to mention cast the net wider for distribution options. But kudos to them for asking the people who got them there in the first place.

Thanks to The Daily Swarm for the tip!

Related links:
News: Portishead already working on fourth album
Feature: Portishead: Don't Call it a Comeback
Portishead on MySpace

Got news tips for Paste? E-mail news@pastemagazine.com.

Others Tagged With