Scarlett Johansson in talks to join Iron Man 2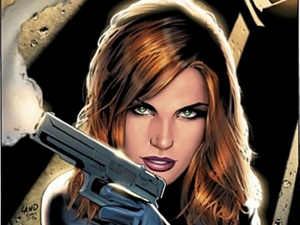 Iron Man 2
may have another cast announcement soon, as Scarlett Johansson is reportedly in talks to replace Emily Blunt (
The Devil Wears Prada
) as the assassin Black Widow.
According to EW, Blunt may have a scheduling conflict with Gulliver's Travels and shooting for Iron Man 2. If Johansson lands the role, it will be her second action film of that year. Amazon, about a gladiatrix who exacts revenge on the army that destroyed her homeland, is also tentatively scheduled to star her in 2010.
Natasha Romanavo
, a.k.a Black Widow, was a love interest for Tony Stark in the
Iron Man
comic books. As a K.G.B. operative, Black Widow was instructed to steal an anti-gravity device from Tony Stark. She did, and mayhem ensued.
Others Tagged With