The Felice Brothers prep Yonder is the Clock for April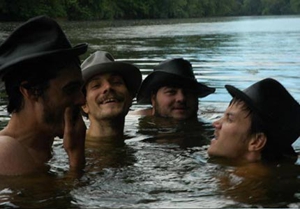 Whiskey-throated quintet
The Felice Brothers
struck joy into rootsy hearts everywhere when they announced the release of forthcoming album,
Yonder is the Clock,
Apr. 7 via Team Love Records.
The fiddling, Catskill-Mountain natives were described by the New York Daily News as capturing "the history - and mystery - of rural America." But their extensive Spring tour will lure them out of barns and boxcars, and into the theaters and blues houses of the urban lands, from Boston to New Orleans.
In a
statement
, the band said that Yonder is the Clock is "teaming [sic] with tales of love, death, betrayal, baseball, train stations, phantoms, pandemics, jail cells, rolling rivers and frozen winter nights."
And poultry, judging by its tracklist:
1. The Big Surprise
2. Penn Station
3. Buried in Ice
4. Chicken Wire
5. Ambulance Man
6. Sailor Song
7. Katie Dear
8. Run Chicken Run
9. All When We Were Young
10. Boy from Lawrence County
11. Memphis Flu
12. Cooperstown
13. Rise and Shine
Dates:
February
6 - Winston-Salem, N.C. @ The Millenium Center
7 - Chattanooga, Tenn. @ Tivoli Theatre
8 - North Charleston, S.C. - North Charleston Performing Arts Center
10 - Gainesville, Fla. @ The Venue
11 - Tampa, Fla. @ Tampa Theatre
13 - New Orleans, La. @ House of Blues
14 - Oxford, Miss. @ The Lyric Theatre
15 - Memphis, Tenn. @ Minglewood
March
13 - Rochester, N.Y. @ Water Street Music Hall
14 - Buffalo, N.Y. @ The Mohawk
15 - Nelsonville, Ohio @ Stuart's Opera House
16 - Indianapolis, Ind. @ Radio Radio
April
7 - Poughkeepsie, N.Y. @ The Bardavan Opera House
9 - Boston, Mass. @ The Paradise
10 - Albany, N.Y. @ Valentines
11 - Burlington, Vt. @ Higher Ground
15 - Alexandra, Va. @ Birchmere Bandstand
16 - Philadelphia, Penn. @ The Trocadero Theatre
17 - New York, N.Y. @ Webster Hall
18 - Northampton, Mass. @ Pearl Street Nightclub
19 - Ringwood, N.J. @ New Legacy Concert Series at Ringwood Public Library
22 - Pittsburg, Pa. @ Mr. Smalls
24 - Louisville, Ky. @ Headliner's
25 - Nashville, Tenn. @ The Mercy Lounge
July
17 - Somerset, Ky. @ Master Musicians Festival
25 - Floyd, Va. @ Floydfest
Others Tagged With