Thom Yorke and Gustavo Santaolalla may contribute to Terminator: Salvation soundtrack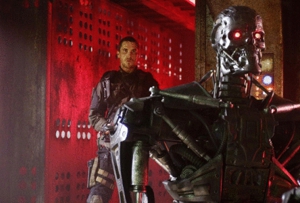 Terminator: Salvation has been in the news quite a bit over the past week, albeit not because of the movie itself. Perhaps in a bid to change that, the film's cheerful pyrotechnic director, McG, said at New York Comic Con this weekend that he approached Thom Yorke and Babel composer Gustavo Santaolalla to craft special music for the movie, which is scored by Danny Elfman.

He stopped short of an actual confirmation, though, and said only that the pair "may still do a couple of sounds for the movie." Yorke, of course, is often a rumored participant on movie soundtracks and doesn't actually turn up very often.

Salvation is the fourth movie in the curious Terminator franchise, which is a quarter-century old and has gone dormant for as much as a decade between installments. McG, known for the Charlie's Angels movies, signed up to the series to mixed response from fans.

Related links:
Ctrl-V: The 29 Most-Anticipated Movies of 2009
News: Terminator Salvation cast continues to evolve
News: Björk releases charity single "Nattura" with Thom Yorke

Got a news tip for Paste? E-mail news@pastemagazine.com.
Others Tagged With