Tiny Masters of Today announce new album Skeletons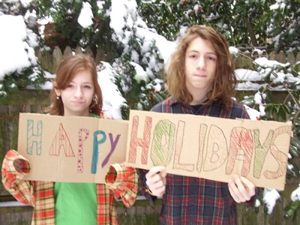 The aptly-named duo-turned-trio Tiny Masters of Today (founding band members/siblings Ivan and Ada are 15 and 12) will be adding another album to its name,
Skeletons
, due out June 16 via Mute Records.
Although their debut release,
Bang Bang Boom Cake
, included collaborations with Karen O and Nick Zinner of Yeah Yeah Yeahs, Kimya Dawson, Fred Schneider (B-52s) and Gibby Haynes (Butthole Surfers) and was remixed by CSS and Liars,
Skeletons
will be written and produced mainly by those little Masters themselves. All the tracks were recorded at the sibling duo's home in Brooklyn, using GarageBand, though the songs were polished by engineers Patrick McCarty and Matt Stein of Seaside Lounge Studio and U.W.M.S.C. respectively.
The three will be enthralling SXSW on Mar 21. with their minuteness and witty, techno-savy lyrics. The self-titled track will be released digitally and on 7" vinyl on April 14.

Others Tagged With