U2 and Spider-Man join hands for...musical?!?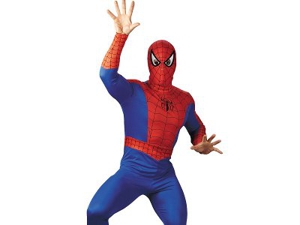 U2 is helping bring Marvel's first musical to Broadway this year. That's right, Spider-Man will finally get to show his "spirit fingers" and project those thought bubbles into lyrical outbursts and/or subdued dramatic stage-whisper monologues.
Will he fight Doc Ock, Venom, the Green Goblin? Will there be wire work? Who knows, but you can count on Spider-Man: Turn Off the Dark (which opens in New York City in Feb. 2010) to be tastefully done with the help of director Julie Taymor (the same woman who brought The Lion King to the stage) and writer Glenn Berger. U2's The Edge has said that the orchestra will be fairly minimalistic with the musical core being a rock band. Evan Rachel Wood will star as Mary Jane, but no other cast has been announced.

Depending on how you feel about U2, this may or may not be a peanut butter in your chocolate kind of mix-up. But hey, you can always hope for future musical match-ups:
Joaquin Phoenix
and The Hulk, Hanson and Thor, Vanilla Ice and Aquaman. The possibilities are endless...
Others Tagged With