Vivian Girls announce tour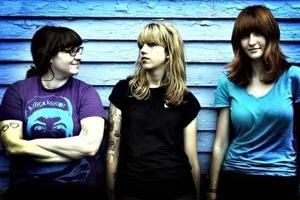 Last fall, we gave a reverberating shout-out to Brooklyn's Vivian Girls, calling the band's exuberance "a compelling battle-cry for the disappearing art of rock 'n' roll pith."
The tattooed trio spent a good deal of time tripping around the country
last year
. This year, they'll hit replay and tour again, but on a grander scale; instead of Seattle and Boston, they'll hit up Amsterdam and Paris.
A host of talent awaits the Girls' return from abroad; M. Ward, Ariel Pink's Haunted Graffiti, Black Lips and Crystal Antlers are all slated to play with them around the States this coming spring.
February
6 - Diksmuide, Belgium @ 4AD Muziekclub
7 - Rotterdam, Netherlands @ RoTown
8 - Amsterdam, Netherlands @ Paradiso
9 - Antwerp, Belgium @ Trix
10 - Metz, France @ Triniaires
11 - Strasbourg, France @ La Laiterie
12 - Limoges, France @ Woodstock Boogie Bar
13 - Paris, France @ Point Ephemere
14 - London, England @ Proud Galleries
15 - London, England @ Carling Academy Islington
19 - New York, N.Y. @ Apollo Theater
20 - Philadelphia, Pa. @ Trocadero
21 - Washington, D.C. @ Sixth & I Historic Synagogue
March
21 - Austin, Texas @ SXSW
April
2 - Brooklyn, N.Y. @ Music Hall of Williamsburg
3 - Philadelphia, Pa. @ Johnny Brenda's
4 - Baltimore, Md. @ Ottobar
5 - Chapel Hill, N.C. @ Local 506
6 - Knoxville, Tenn. @ Pilot Light
7 - Atlanta, Ga. @ The Earl
8 - New Orleans, La. @ The Parish
9 - Houston, Texas @ Walter's on Washington
10 - Austin, Texas @ The Mohawk
11 - Dallas, Texas @ Hailey's
13 - Phoenix, Ariz. @ Modified
14 - Tucson, Ariz. @ Plush
15 - San Diego, Calif. @ Casbah
19 - Indio, Calif. @ Coachella Festival
May
15 - Brighton, England @ Great Escape Festival
Others Tagged With