A Peek Inside the Sundance Film Composers Lab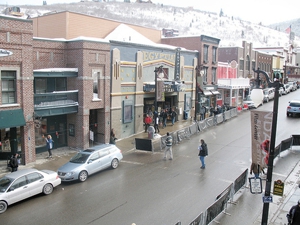 Sundance's Meal Tent is not actually a tent—it's a massive open barn built with moveable walls. The structure overlooks a small, man-made pond with a gurgling waterfall. There's plenty of fresh fruit, and the whole place smells of trees, likely from the woodchip-spackled landscape of the surrounding Utah mountain valley. Inside, people learn the most important technical skill the Sundance Film Composers Lab offers its six fellows: schmoozing.
Inside this flawless mirage, an in-bloom/off-season ski resort, social-justice entrepreneurs socialize with social-justice documentarians, agents, reps, reps of agents, suits (camouflaged in shorts), directors, Producers Lab fellows and the occasional flown-in journalist. Some speak reverently of "Bob's house" with its "three-acre front yard."

From this very spot—Sundance founder Robert Redford's upslope digs—flows the cool mountain stream of blessed, benevolent lucre. Metaphysically, at least. It was Redford who established the Institute in 1978 to drive more traffic to his struggling resort. These days, the money comes from several million dollars in annual donations and endowments. At the cred-building center of the Institute's vast fundraising apparatus are the Labs, where artists can work on projects with the assistance of creative advisors. The labs are divided by concentration—screenwriters, documentary, theatre and film composers. (Directors lab alums include Quentin Tarantino, Paul Thomas Anderson and Tamara Jenkins.)

"You come here, where you don't have the constraints of being on a job," says Peter Golub, who re-established the two-week Composers Lab in 1998. "You have the ability to focus on creativity. We're not looking for everybody to come away with beautiful demos, it's more that they learn something about the process."

Picking a half-dozen fellows from 250 applicants to the Composers Lab, Golub notes, "the music field [encourages] you to bend and adapt to specific styles and films and personalities of directors, so people tend to become chameleons, musically. [But] we're looking for people with original voices." In 2008, the Fellows ranged from Prague-born/London-reared Robbie Williams-collaborator iZLER to concert pianist Nicholas Pavkovic.

Between intense woodshedding, there are roundtables and panels with studio execs, workshops with established composers (including Carter Burwell, composer for 12 of the Coen brothers' 13 features), and cue-writing projects with Directors Lab participants.

"As a composer, you spend all your time working in a little room all by yourself," says Matt Cartsonis—a twang-specializing fellow—of the post-Pro Tools/Avid world. "The only time people visit are to fix what you've done wrong. If they like it, they just don't bother you."
Others Tagged With