James Franco preps short-story collection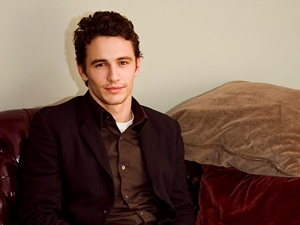 Actor James Franco has reportedly sold a short-story collection to publishing giant Simon Schuster's imprint Scribner.
The news shouldn't come as a surprise. In an interview printed last summer, following the release of his stoner buddy comedy Pineapple Express, Franco revealed that he was going to Paris to learn French. "I eventually want to get a Ph.D. in literature, and a lot of the programs want you to be able to read in two languages," Franco said. Franco was an English major at UCLA before dropping out to pursue acting. After his return to school, Franco prepared his honors thesis with talented novelist Mona Simpson (who evidently discovered in adulthood that she was the sibling of Steve Jobs). He now attends Columbia University's MFA writing program and studies filmmaking at NYU.
This isn't a historic precedent either. Other actors have written books with varying levels of success: Stephen Collins, Joan Collins, William Shatner, Ally Sheedy, Harley Jane Kozak. The list goes on. In a D+ review of Ethan Hawke's book,
The Hottest State,
an
Entertainment Weekly
reviewer seems to think actors are doomed to write poor fiction: "acting and writing are such diametrically opposed skills—one puts words in another's mouth, the other swallows a person's words as one's own." Sure, forget about all of that researching characters baloney that actors do, or their ear for dialogue. After all, as Sir Ian taught us, it's all just "
pretending
."
Predictably, book blogging nerds and literati are already in a frenzy about this "
travesty
," but Franco has at least demonstrated that he treats the craft of writing seriously—as
seriously
as he does acting. As always, it'll probably help to let the work get published and actually check it out before condemning it.
Others Tagged With