Payne announces "small" film with Giamatti, Witherspoon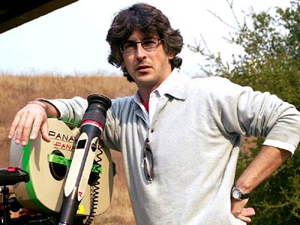 It seems Alexander Payne is partnering with screenwriting collaborator Jim Taylor again to pen his first feature film since 2004's Sideways won an Oscar for the duo's adaption of Rex Picket's novel of the same name. Rejoining the director for the film will be Paul Giamatti, who starred in Sideways, and Reese Witherspoon, who hasn't acted for Payne since her breakout film Election in 1999.
While the screenwriting team and actors might feel familiar, the film's premise alone is a guarantee that this project will be a departure for the director. The movie, titled
Downsizing,
is a satire (nothing new there) about a man who is running low on cash and decides he can have a better life if he undergoes a process to shrink himself. It sounds like an effects-requisite idea that would more likely be found in a Charlie Kaufman screenplay. Giamtti plays the lead, who meets Witherspoon's character on his destination to smallness. A wildcard for the production is the addition of Sacha Baron Cohen as a tiny foreigner. 
Depending on how long Payne has been working with Taylor, it'll likely be several months before even the script arrives; Payne has
told
interviewers before that the typical length of the screenwriting process for him is six months. There's no information at the moment if this is an original screenplay or an adaptation like all three of the previous Payne/Taylor partnerships have been:
Election
,
About Schmidt
and
Sideways
. 
From the movie's title and the U.S's recent economic problems, one could postulate that the film might satirize the greedy larger-than-life American culture's need to constantly consume (credit card companies beware!). We'll have to wait and see if moviegoers deem a ticket to the film too extravagant. 
Others Tagged With