Bamboozle Left fest auctions stage slot for Deftones bassist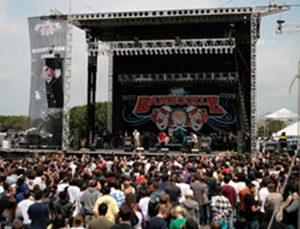 Bamboozle Left, the two-day emo/punk extravaganza, will be giving away a coveted spot on the festival's main stage to an up-and-coming band. Well, not exactly giving away. The band willing to throw down the most cash on eBay will win the chance to woo scores of concert-goers. While the approach isn't exactly the most democratic, at least it's for a good cause; proceeds from the eBay auction will go toward the medical care of Deftones bassist Chi Cheng, who was involved in a car accident in November. The auction will benefit One Love for Chi, an online fundraiser set up by Cheng's family.
The winning band will snag a 25-minute afternoon set at the festival on Sunday, April 5 in Irving, California. Although Bamboozle is normally known for holding competitions for performance spots, the eBay auction will allow any band to play as long as said band is willing to pony up the dough. The auction ends tomorrow, and is sitting on a cool $4,050 at the time of this writing.
According to One Love for Chi, the Cheng family's minimum fundraising goal is approximately $20,000. The effort has already netted over $10,000 through online donations made through PayPal by fans.
Deftones are scheduled to perform at the festival without Cheng, using ex-
Quicksand
bassist Sergio Vega as his stand-in. The band members issued a full statement on the
Deftones blog
, saying that Vega had played with the band as Cheng's replacement before. "Back in 1999, Chi had to leave the band for a brief moment and our close friend Sergio Vega filled in to keep the train moving," says the post. "Ten years later, Sergio is going to step in once again while Chi is down."
Others Tagged With