Band of the Week: Harlem Shakes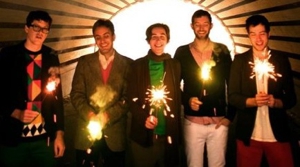 Hometown: Brooklyn, N.Y.
Band Members: Lexy Benaim (lead vocals), Todd Goldstein (guitar, vocals), Brent Katz (drums, drum machine, vocals), Jose Soegaard (bass, vocals), Kendrick Strauch (keyboards, vocals)
Album: Technicolor Health
For Fans Of: Vampire Weekend, White Rabbits, The Shins

"Maybe it's just like a personal delusion, [but] I feel like I relate to, say, Akon, more than I do Death Cab for Cutie," quips Harlem Shakes lead singer Lexy Benaim. "I think the guitarist in my band would cut me with a knife if he heard me say that." Though auto-tuned club hits didn't inform the band's effervescent debut LP, Technicolor Health (out March 24 on Gigantic Music), as much as classic rock and Latin radio, Randy Newman and Santana, Harlem Shakes are hell-bent on achieving that same sort of social quality as they carve out their niche in the vast landscape of pop music.
The band has been playing party-gig songs since a few of the guys were Yale undergrads, but saw its lineup and sound change radically in the years since, finally coming into its own on 2007's
Burning Birthdays
EP, channeling Phil Spector with its dense textures, girl-group style harmonies, bouncy drumbeats and playful keyboards. Now, on the heels of a year when "change" was the ultimate buzzword, Harlem Shakes are embracing another transformation.
Technicolor Health
, created during and after times of "general nasty tumult, including some sickness within family," Benaim says, communicates a sense of hope laced with cynicism and regret.
All-band harmonies still complement his nasally warble, but the guys have streamlined their wall-of-sound layering to careening synthesizer and wiry guitar. And just as fellow Brooklynites Vampire Weekend hinted at Afropop on their buzzworthy debut, Harlem Shakes are entering Latin-tinged territory these days, due in part to their trusty drum-machine setting ("something like Latin Beats with a 'z'," Benaim says) and an ever-present urban soundtrack. "You just hear Latin music all the time if you're living in New York," he explains. "There are like seven Latin [radio] stations-- and just walking anywhere, Latin music is ubiquitous." Though some of the band members are of Latin descent, they still give serious thought to the trickiness of cultural appropriation. "I think people are basically way too uptight about that stuff. I'd say from Elvis to Eminem-- these are like the classic appropriators-- I really like those so-called appropriated sounds," Benaim says. "It's a real risk, and you have to do it gracefully."
Though the new style can't be billed exclusively as dance music, these up-tempo, Latin-flavored beats and sing-along choruses make for some serious toe-tapping. But that's no invitation to make the guys break out their namesake dance. "Here's the thing: When someone says to you at a show, 'Do the Harlem Shake,' they're basically saying, 'Dance, bitch,'" Benaim explains. "So we don't do it on command like trained dogs. But at a party, there are some moves with which we're familiar we might break out."
Listen to Harlem Shakes' "Strictly Game" from Technicolor Health:


Others Tagged With