Bill Murray spotted in Georgia filming Get Low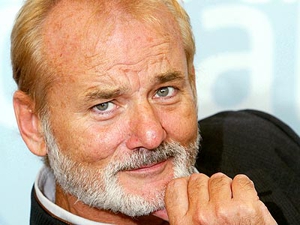 Bill Murray recently poked his head out from shooting Get Low to attend an Atlanta Hawks game where he was seated alongside Spike Lee.
Murray's banter with the courtside commentator, displayed on the JumboTron, included the information that he was playing an undertaker in the upcoming film. He also managed to upstage the commentator's weak Hawk call.
Get Low
is based on the true story of a man living in Tennessee during the depression era who wants to stage his funeral before he dies so he can enjoy it. Murray is joined by Robert Duvall, who stars as the reclusive Felix "Bush" Breazeale, and Sissy Spacek. (If Duvall has time, he can have a reunion with the surfboard owned by his character Lt. Col. Kilgore from
Apocalypse Now
while he's in Georgia. It's on permanent display at the Redneck Gourmet in Senoia in Coweta County.)
Despite coming in at a mere $7 million dollars (actors volunteered a pay cut to work on it, and the script was championed by Duvall) the independent film seems top notch with director Aaron Schneider, who won an Oscar for his short film in
Two Soldiers
, steering the production. Here's hoping this contribution to the annals of filmmaking will make up for 2008 and the dubious quality of the straight-to-DVD movies
Van Wylder III
and
Road Trip II
, which were both filmed in the Peach State.
Others Tagged With