Blitzen Trapper's new tracks, solo albums in the horizon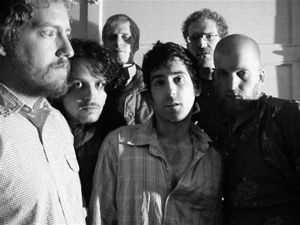 Blitzen Trapper is currently on tour in support of its 2008 release, Furr, and apparently not wasting any time on the new-material front. According to a Billboard interview with Marty Marquis, the band has already finished several songs for its fifth album and it once again collaborated with Furr producer Mike Coykendall.

Even though they're hoping to complete the album by November, the rockers are taking their time to explore different sounds and move beyond
Furr
. Among the new tracks is "The Tailor," which Marquis describes as "a really crazy, psychedelic tale along the lines of
Furr
, but the arrangements are not so folky and simple. The tale itself and the poetry that expresses it is, I think, the next level above what we did with
Furr.
"
Another thing on Marquis' mind: a solo album. Looking for different ways to grow its label,
Lidkercow Ltd
., the
Sub Pop
recording band is looking into releasing its own solo projects through the label.
"We can't put out Blitzen Trapper albums on our label for a couple years," he tells
Billboard
, "so we've been exploring some different ways to keep the label active and growing. We'll probably put out solo records by a couple of guys in the band who have their own project, and there's another artist we're talking to about the possibility of putting out those records, too."
While they will not be previewing new material during the last leg of
their tour
, the band will honor fans' requests for songs from their previously self-released albums.
While you wait for the Portland guys to rock your city, check out the title track from
Furr
:
Related links:
News: Blitzen Trapper sets U.S. tour dates
A/V: SXSW 2008: Blitzen Trapper - "Wild Mountain Nation"
Review: Blitzen Trapper's Furr
Got a news tip for Paste? E-mail news@pastemagazine.com.
Others Tagged With