Catching Up With... The Hold Steady's Craig Finn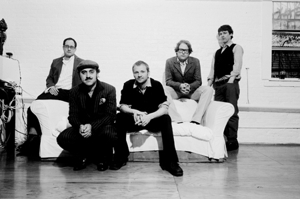 The Hold Steady is a versatile rock 'n' roll band. From snacking to charitable causes, Craig Finn and his merry band of rockers have you covered. The Hold Steady is for the children, but it's also for throwing fists. And throwing back beers. The band is known for many things, but perhaps most of all, it's know for its live show. So when the announcement came that The Hold Steady would be releasing a live album/documentary combo, it just made sense. Paste caught up with Finn via phone while the speaksinging frontman was in Chicago doing press and getting honored for being both Irish-American and relatively young.

"The Irish Echo
, which is a newspaper here, is honoring 40 Irish Americans under the age of 40, so I'm going to some sort of reception for that today," he says. "I was nominated and it's an honor. I don't know. I guess I'll shake some hands."
Paste:
Why a live album now?
Finn:
Well, we had the footage for a long time. When we did the
Boys and Girls in America
tour, we sort of felt like something different was happening, so we had the label get us a film crew for that tour and capture everything. In the end, it was a lot of footage, so it took a while to get it where we wanted it.
It ended up being a unique and interesting time for us as a band. I mean, we're all in our 30s and we've been in a lot of bands with lesser success, so when we started showing up at these sold-out shows and seeing the community that had built up around it, it was a really exciting time.
Paste: Was there an adjustment period to get used to having cameras around all the time?
Finn: I can't really remember. I think we got pretty used to it. Obviously, looking at the footage, we're pretty used to it. We got to be pretty friendly with the camera guys. Especially by the time England happened, which was a little ways after, so we already knew the guys from the American tour.
Paste: One of my favorite quotes from the documentary was when you were talking about the fan that told you Drive-By Truckers and The Hold Steady are the only bands that smile. It's an exaggerated point, obviously, but a valid one, I think. What do you think this says about today's rock 'n' roll that people look at it like that?
Finn: Somewhere along the line, I think, there was an idea that rock 'n' roll equals disaffected and transgressive or something rather than fun, good-time music. I don't know where that starts, be it Kurt Cobain, I don't know who, but people got that idea that rock 'n' roll isn't celebratory.
Paste: Do you think that preconception is starting to go away?
Finn: Well, I know that us and the Truckers kind of feel the same way about music. There's always gonna be new bands in genres, but I hope that people take something from the way we try to make shows more celebratory.
Paste: Despite the fact that the documentary is marketed with phrases like "the band is on the brink of collapse," I didn't get that vibe watching it. You guys are so clearly happy being in a band
—
Finn: —That may be overstated, but I understand what you're saying. At that point, we still all had jobs, I think. Going out was a labor of love. Now it's become somewhat more professional. We still try to put everything into our shows. But one thing about that tour was that we were still driving ourselves. When you don't have a real driver, it's something that you're kind of winging. We didn't have a tour manager either, so we were just kind of showing up and playing in front of all these people, then loading ourselves out and then going to a hotel or someone's house.
Paste: Fairly or unfairly, you guys have been tagged as the quintessential bar band. As your success continues growing, as the documentary makes clear that it is, are you worried about graduating to bigger venues? That you won't have that dive-bar feel?
Finn: Yeah, it's certainly a challenge, but I really embrace it. We've already dealt with it somewhat. But we have to accept it to keep the band growing.
Paste: And now you have scheduled dates opening for Counting Crows and Dave Matthews Band. Is that kind of surreal to think about at all?
Finn: Well, no. The one thing we haven't done much for anyone is open, so it should be pretty interesting. We did do a show last summer with the Crows in a hockey rink that was similiar to this kind of thing, and it worked really well, we thought. Again, it's a part of growth and it's something different.
Paste: Along with this growth, do you notice your fanbase changing? Because another quote I liked from the documentary was when one of your bandmates said that a lot of your fanbase is fathers and their sons.
Finn: Yeah, it's pretty cool. I've definitely seen it go more female lately, which is one of the only ways I think we could've expanded. It seems like the numbers are getting a lot more even now. It's also gotten quite a bit younger, the audience.
Paste: Switching gears a little bit, I recently read the Zero Boys essay you did for The Guardian. I actually only just discovered Vicious Circle this year, and I thought the piece brought up a lot of great points about punk rock and what it means now, but you also mentioned the recession and it made me wonder how you thought it was affecting your live shows.
Finn: To be honest, I don't know that it has. We went out with the Truckers at the right time. It will be interesting to see how it affects some of the festivals this summer. I think that might be a place where we'll see some change. But right now, some part of me thinks we'll be fine as far as our shows, because we provide a place for people to escape. It's two hours of escapism from the more stressful parts of their daily lives. Gas was the big thing, and that's obviously gone in the right direction. Last summer was really harsh with the gas.
Paste: You talk of a "unified scene" in your songs and also in that Guardian piece in terms of how today's punk-rock community really can't actually be one. One of the several factors contributing to this, I think, is the way the Internet blows open the idea of listening merely to one kind of music—
Finn: —Absolutely. And, the Internet takes some of the romance and mystery away from it too, I think. If you can buy any record off Amazon, if you can get your hands on pretty much anything, you covet the little things you have a little less. The punk rock of our day was based on poor distribution and the records were more like artifacts. They were hand-touched from somewhere else.
Paste: Whereas now, when I discovered Zero Boys, I read a Wikipedia entry, but someone in the late '70s might've had no idea who they are, much less a way of finding out.
Finn: Right, that's absolutely true. It was much more of a select group of people.
Paste: You guys have a lot of tour dates coming up, but have you have you found time to work on any new material since Stay Positive?
Finn: We've been getting to the stage where we can throw around ideas. Somewhere on the horizon we'll get back into the studio. I'm not sure exactly when, but we're starting to see what that'll be like.
Others Tagged With