Clash's Mick Jones opens music public library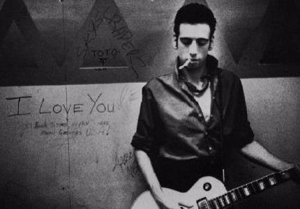 "The Only Band That Matters." Not many bands could get away with this slogan—let alone a "punk" band—but then again, The Clash was in a league all its own. While the late Joe Strummer is more widely recognized and referenced, some people forget there were two frontmen—two necessary halves that made The Clash work. And when Strummer and bassist Paul Simonon booted that other half, guitarist and vocalist Mick Jones, out of the group after the last official Clash album, Combat Rock, they gave us Cut the Crap, an album so bad and so incomplete, it had fans begging the band to practice what it preached in the record title. And so it did, with Strummer and purists alike disowning the Jones-less mess that had bastardized the good name of The Clash.
After the fallout, Jones would go on to form Big Audio Dynamite, which split in the mid-'90s. Since then, most notably, he co-founded another band, Carbon/Silicon, and produced the Libertines' only two albums.

But now, he has something new to share with the world: his massive collection of music memorabilia, to which he's been adding since his early days with one of the most influential bands in rock history. Now 53, Jones has recently unveiled his "Rock and Roll Public Library" at London's Chelsea Space Gallery. (This is only a temporary location, as Jones hopes to find a permanent residence for the collectibles.)


Says Jones to Reuters, "I started collecting things when I was very young and I did not really know why. Then at the Millennium, the change of the century, it started to become clear. I realized I wanted to share it...It's a fantastic collection people can take great pleasure from and also learn something."

Some of the things included are old album covers, books and films of and on artists like Frank Sinatra and Johnny Cash, as well as old issues of Creem and Rock Scene that his mother sent him as a child. As one would expect, the collection also has its share of Clash items, including plane tickets, the band's pink flight cases and a handwritten note from Strummer to Jones.

The exhibition at Chelsea Space runs until April 18.

Related links:
Review: The Clash - London Calling
TheClash.com
Photo gallery of collection at Chelsea Space

Got a news tip for Paste? E-mail news@pastemagazine.com.

Others Tagged With