Clipse and Rick Rubin collaboration underway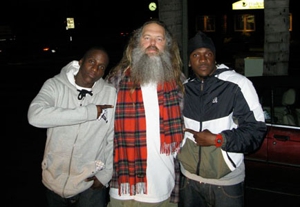 If you were to get a running list going of some of the most influential albums of the last two decades, odds are that you'll find Rick Rubin's name in the liner notes more than a few times. And while Rubin has only dipped his toes into hip-hop, his pedigree in that department is damn near unimpeachable too: Run DMC, LL Cool J and Jay-Z have all benefited from his skill in the booth and ear for tuneful hooks. Well, get ready to add two more names to that list: Malice and Pusha T of Clipse have invited Rubin to their Malibu studio to work on some tracks for their third album, Til the Casket Drops.

According to EW, Rubin has already wrapped one track and planning for one or two more. Casket, meanwhile, is still slated for a to-be-determined Summer release. First single "Kinda Like a Big Deal" drops March 9, and it's already stirring Internet buzz for its one-two punch of producer DJ Khalil and featured artist Kanye West. If what we've seen so far is any indication, we're in for another round of word-twisting rap and minimalist Neptunes beats. And now the dude who produced "99 Problems" is on board. Awesome.

Related links:
Review: Clipse: Hell Hath No Fury
Time: Rick Rubin: Hit Man
MTV: What's up with that bearded guy in the "99 Problems" video?

Got a news tip for Paste? E-mail news@pastemagazine.com.

Others Tagged With