Dante's Inferno screenplay gets X2 writer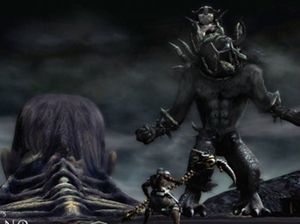 In case you slept through English Lit, we should mention that Dante's Inferno is actually a book-to-videogame-to-film adaptation. This isn't a precedent, but it's still an impressive leap for a 14th century poem. If the author, Dante Alighieri is rolling in his grave, at least you can be happy the film is in good hands with Dan Harris (X2, Superman Returns) writing the screenplay.
The currently unreleased Dante's Inferno game caused a bidding war between major studios. It's easy to see why. Like the original work, Dante still travels through the nine rings of hell and encounters hellishness. Other than that, things differ a bit from book to game. Rather than being a scholar accompanied by the poet Virgil, in game form Dante is a buffed-up warrior type accompanied by Death's scythe, in a quest to win back his love from Satan. The overall gameplay looks a bit like God Of War, and the cinematic trailer for the video game shows that the conversion from game to action film shouldn't be a leap. 
Early
previews
of the game revealed horrors such as hordes of unbaptized babies with blades for arms that poor Dante will have to fight his way through. So, maybe, leave the kids at home for the movie, and don't expect extra credit from your professor for watching the film or playing the game.
Others Tagged With