Devo to appear at SXSW, release new album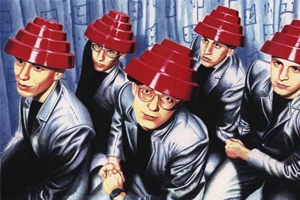 Devo might just be human kind's last hope. With the world in shambles and our species devolving into a brainless mess with each passing day, the five men of Devo have taken it upon themselves to set the wicked ways of the world straight with their particular brand of synth pop That, or maybe they just felt like making a record. Either way.

Regardless of their reasons, the legendary group is set to release an album in the fall of 2009. The currently-untitled album will mark their first full-length since the release of
Smooth Noodle Maps
in 1990.
In addition to new music news, it has been announced that Devo will make a few special appearances at SXSW beginning with a
pre-SXSW concert
on Wednesday, March 18, at the Palladium Ballroom. Then on Thursday, they'll hold a press conference (4 p.m.) and keynote panel (5 p.m.) at the Austin Convention Center. To wrap things up, Friday night they'll play a concert at the Austin Music Hall before taking off for London for a
series of dates
.
Others Tagged With