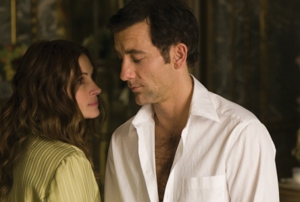 Release Date: March 20

Director/Writer: Tony Gilroy

Cinematographer: Robert Elswit

Starring: Julia Roberts, Clive Owen, Paul Giamatti, Tom Wilkinson

Studio/Run Time: Universal, 125 mins.
A deft romance with an eye on old times

Duplicity all but demands we evoke a dangerous cliché, so here goes: They don't make movies like this anymore. By that, of course, we mean that the movie adopts old Hollywood mechanics—showy marquee stars, swift-witted dialogue, character-dominated plot—and relies on an audience willing to be tricked, surprised and challenged.

That's certainly all true. The film stars Clive Owen and especially Julia Roberts, who returns to the screen with dominance that makes it easy to understand why she is one of the most successful actresses the business has ever known. And it comes from a writer-director, Tony Gilroy, famous for his cavalier attitude toward Hollywood and an open contempt for how some of his screenplays (the
Bourne
movies are his most famous) have eventually made it to the screen. Once he was left alone by the studios, on
Michael Clayton
, he made one of the best-liked modern thrillers.
Duplicity
also has the kind of instantly endearing romantic premise that sold movies like
The Philadelphia Story
and
His Girl Friday
so winningly in less congested times. A pair of opposite-sex spies (that would be our stars) meet in Dubai. He approaches her with an easy, confident gait; she pretends not to notice him. Turns out, he's the reason she's there, and after they breezily flirt through insults for a while, she takes him back to a hotel room, drugs him and lifts state secrets from his bag. Happily, they meet again some time later, have a sublime few days together and begin to cook up a plan to steal large sums of money and disappear together forever.
The plan is long and complicated and full of moments where it's obvious we don't know everything the characters do. That's supposed to be part of the fun, and for the most part, it is. Most important to us, the scheme involves two mad rival executives (played with superlative wit by Paul Giamatti and Tom Wilkinson) and their comic attempts to overthrow each other.
You might have sensed a "but" coming on, and there is one. It's not that Gilroy is off his game; he operates at a superior level of craftsmanship and screwball intelligence. But—yes,
but
—there comes a point in
Duplicity
when the writer-director's feats of storytelling become oppressive to the general sense of winsome romantic foolery that drives the movie. It's almost impossible not to enjoy, but there are times when the story becomes so wrapped up in itself that it feels pointless to unravel. As sophisticated as it is, the pace is often uneven, and there are other times when the mood seems distinctly removed from where it should be.
This is tough to admit. How can anyone in reasonable conscience wave on movies like
He's Just Not That Into You
and
Confessions of a Shopoholic
as standard fare and then not bow to a movie like this? Alas, it is what it is, and it's best to move on from
Duplicity
's limitations and instead appreciate what it does get right.
In that spirit, the final scene is as satisfying as any movie's can claim to be. It appropriately features Owen and Roberts with roughed, bewildered looks, as confused by what has just happened as we are at first. It gives nothing away to reveal that the scheme does not go as planned, and to watch it unfold in that last sequence is a rare, distinct pleasure. The camera backs away from the stars as if to lead us out of the theater, and with that, the movie abruptly releases us back into the world.
Watch the trailer for Duplicity:
Others Tagged With