Elvis Presley memorabilia to be sold in online auction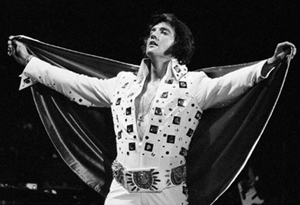 Judging by the public outcry to our recent List of the Day, "Ten Reasons Why Elvis Presley is Overrated," our readership loves the King. For those of you whose feathers we ruffled, here's some consolation: You're not alone. Yesterday, an online auction of Presley's belongings went up through Gotta Have It, and auction master Peter Siegel has set the minimum bid of $100,000 on some items.
Siegel is assured that crazed fans will dig the money out of their pockets, even in recession time. "There is a huge, huge following for Elvis and there always will be,"
he said
. "He was larger than life....Kids dress up like him still for Halloween."
Although it could be speculated that no child has ever paid upwards of $100,000 for a King costume, Siegel has priced the memorabilia with confidence in Presley's cult following. The $100,000 minimum bid is on Presley's iconic sky blue jumpsuit and cape with gold lining. To top that, Siegel expects a minimum of $750,000 on the singer's white Knabe Grand Piano, which he played at his mansion in Graceland. A silver and turquoise belt Presley wore starts at $8,000.
One thing Siegel didn't consider, though, is that some diehard fans still think
Elvis lives
. What would the living King think of an auction house parting his garments and casting lots for them? Pending an angry mob, the auction, which started Monday, will close on March 25.
Others Tagged With