Elvis Costello gets Secret, Profane with T-Bone Burnett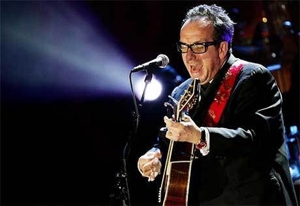 Elvis Costello has always been a master of collaboration, and on his upcoming release,
Secret, Profane & Sugarcane
, he continues the tradition. Working with T-Bone Burnett as producer for the the third time, Costello also joined forces with Loretta Lynn, Emmylou Harris and the newest incarnation of his touring band, The Sugarcanes.
After years of amped up rock, Costello returned to Nashville to record with an impressive roster of American country and bluegrass musicians, including some members of the Alison Krauss/Robert Plant
Raising Sand
camp. T-Bone's Kay electric guitar is the the only amplified instrument on the album, giving the mix of old and new songs a predominately acoustic feel that Costello hasn't embraced since his 1986 album
King of America
.
In addition to
Secret, Profane & Sugarcane
, Costello will release a 7" vinyl single "Complicated Shadows"/"Dirty Rotton Shame" on April 18 for
Record Store Day
.
He also plans to set out on tour in July and August with The Sugarcanes.
Secret, Profane & Sugarcane
tracklist:
1. Down Among the Wine and Spirits
2. Complicated Shadows
3. I Felt the Chill
4. My All Time Doll
5. Hidden Shame
6. She Handed Me a Mirror
7. I Dreamed of My Old Lover
8. How Deep Is the Red
9. She Was No Good
10. Sulfur to Sugarcane
11. Red Cotton
12. The Crooked Line
13. Changing Partners
Others Tagged With