Antony and the Johnsons tour with orchestras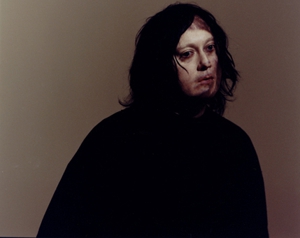 Antony and the Johnsons have announced plans for a European tour in support of their new album, The Crying Light. The cabaret-inspired act known for its emotional performances will perform with city symphonies from Manchester to Oslo, bringing its music to classical opera houses and theaters across Europe.
Antony Hegarty has collaborated with Nico Muhly, a contemporary classical composer who has previously worked with artists like Bjork and Philip Glass, to develop arrangements for the orchestras to play alongside the band. The orchestra's conductor will be Rob Moose, whose range of discography includes Sufjan Stevens, Jay-Z and The Walkmen.
The tour's premiere performance will take place at the
Manchester Festival
, billed as "an artist-led, commissioning festival presenting new works from across the spectrum of performing arts, music, visual arts and popular culture." This performance will include a fully developed stage environment for
The Crying Light
, as designed by Hegarty, "inspired by Bauhaus stage lighting design and considering the dreams of crystals inside mountains," according to the band web site.
The band released
The Crying Light
in January as a follow-up to its acclaimed 2005 debut album,
I Am A Bird Now
, which garnered the band a
Mercury Prize award
. The
video
for their new single, "Epilepsy is Dancing," was co-produced by the Wachowski Brothers (and, incidentally, initially banned from YouTube).
Antony and the Johnsons will announce additional tour dates in the coming weeks, according to their web site.
June
21 -
Amsterdam, Holland @ Royal Theatre Carré
22 -
Amsterdam, Holland @ Royal Theatre Carré
July
3 -
Manchester, England @ Manchester Opera House
4 -
Manchester, England @ Manchester Opera House
21 -
Lyon, France @ Grand Theatre Romain
28 -
Rome, Italy @ Il Parco della Musica
August
9 -
Oslo, Norway @ Oslo Opera House
14 -
Gothenburg, Sweden @ Slottsskogen Park
Others Tagged With