Interpol's Carlos D to premiere film at Anonymous Gallery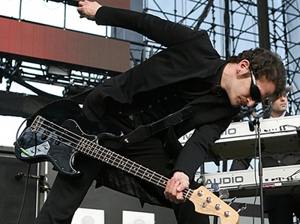 Interpol bassist Carlos Dengler (AKA: Carlos D) will premiere his film,
My Friends Told Me About You
, at the Anonymous Gallery in New York on April 17.
The 26-minute film takes on the idea of celebrity in our star-obsessed culture. Dengler wore a variety of hats on the production, starring, producing, directing and collaborating with clarinetist Ian Mitchell on the film's original score.
The fusion of sound and image in this movie should be interesting as it delves into surrealism with a drug-dealer who becomes increasingly paranoid and confused. A sampling of the soundtrack on Dengler's
online portfolio
revealed that the music is moody and orchestral. Sorry, Interpol fans, the music seems accomplished with the majority of the tracks having an ominous, creeping feel to them, but these are not new Interpol songs.
The film is directed by Daniel Ryan and was shot around Chicago in 2007. It will be featured as a video installation at Anonymous Gallery in New York April 17-May 5 and also featured in McSweeney's
Wolphin
#8 in the Spring of 2009.
Others Tagged With