Depeche Mode tours, gets iTunes Pass treatment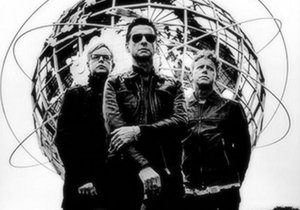 Depeche Mode broke what had come to seem like a vow of silence last Fall, announcing that it would release its first album in four years, Sounds of the Universe, this April. As it turns out, the group's release and upcoming tour work out well for Apple, which recently debuted its new iTunes Pass feature for Depeche Mode fans.
iTunes Pass will allow fans to get new and exclusive singles, remixes, videos and other content from their favorite artists over a set period of time, delivered to their iTunes libraries as soon as they become available. Although Depeche Mode's CD won't be released until April 21, fans who sign up for the pass can download the single "Wrong," the Black Light Odyssey Dub Remix of "Oh Well," and other music and video exclusives. They will also receive the album on its street date, all for the tidy sum of $18.99.
Ronn Werre, president of Music Services at EMI Music said in a statement "with iTunes Pass, Depeche Mode are once again demonstrating that they are true trailblazers and innovators when it comes to...connecting with their fans."
And the news just keeps coming. Depeche Mode has added a slew of North American stops to their extensive support tour, shown below.
12

- San Francisco, Calif.
20

- Santa Barbara, Calif.
25

- Salt Lake City, Utah
Others Tagged With