Jarvis Cocker diagnosed with Further Complications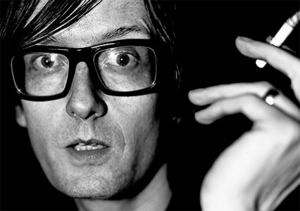 With Pulp receding in the rearview mirror, frontman Jarvis Cocker has lately been flexing his musical chops for his well-received solo career. The sequel to his 2006 self-titled solo debut has just been: Further Complications. "Complications" is apparently a diagnosis of our zeitgeist; Cocker has dished on the meanings behind the names of several of the possible tracks. "Slush" ("I guess slush will be the ultimate outcome of global warming."), "Caucasian Blues" ("An attempt to understand the pain of a man whose Honda Goldwing has run out of petrol") and "I Never Said I Was Deep" ("The phrase that I would like carved on my tombstone") are all in consideration.

Cocker insists that he hasn't "gone rock" for Further Complications, but production maven Steve Albini (of Pixies and Nirvana fame) was nonetheless posted in the booth for this offering. The two met while the former Pulp frontman was in Chicago for last year's Pitchfork Music Festival; Jarvis paid a visit to Albini's Electrical Audio studio to put some new songs through their paces. The experience (and the price: "very cheap") was perfect, and thus a partnership was born.

No word yet on a tracklist for this sucker, but the usual supporting tour is in the works for after its release. Further Complications is out May 18 in the U.K., and May 19 in the U.S. on Rough Trade.

Related links:
News: Jarvis Cocker to compose for Wes Anderson's Fox
Jarvis Cocker on MySpace
Google Video: Jarvis Cocker - Interview (Culture Show)

Got a news tip for Paste? E-mail news@pastemagazine.com.

Others Tagged With