Jim Jarmusch recruits Boris for The Limits of Control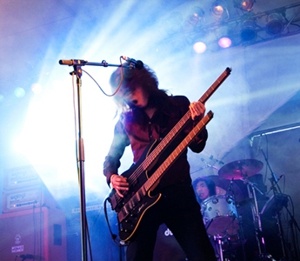 Depending on how you feel about Japanese doom metal, you may have immediately noticed a name while watching the newly-released theatrical trailer for Jim Jarmusch's Spanish crime epic The Limits of Control. Notably, that the ambient sludgemeisters of Boris have joined up with Jarmusch to help score the movie.

Maybe we shouldn't be surprised by the eclectic pick, given that Jarmusch is an old hand at having excellent musicians score his flicks, among them Tom Waits (Night on Earth), Neil Young (Dead Man) and The RZA (Ghost Dog: Way of the Samurai.)

And some even better news for those of you who like your soundtracks drone-y and ambient: experimental metalmen Sunn O))) and minimalists Earth will be collaborating with Boris on the film's music as well. Conclusion? Not only is Jarmusch one of the preeminent architects of independent 21st century filmmaking. He's also pretty damn metal.

The Limits of Control arrives in theaters May 22.

Thanks to The Playlist for the tip!

Related links:
News: Jim Jarmusch working on The Limits of Control
Review: Boris with Michio Kurihawa - Rainbow
Boris on MySpace

Got a news tip for Paste? E-mail news@pastemagazine.com.

Others Tagged With