Kanye West and Spike Jonze reuniting for short film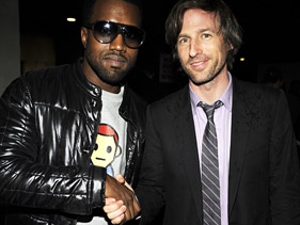 Last week's new (well, kind of new) music video for UNKLE's song "Heaven" was the second one Spike Jonze has directed in the past four years. Apparently, some little thing called Where the Wild Things Are has been keeping him busy, but that all sounds like a load of excuses to us. And while word was that his first real return to the medium would be on Weezer's "The Greatest Man That Ever Lived," it looks like he's got some other plans first.

MTV
has word that Jonze's next release will be for Kanye West and Lil Wayne's "See You in My Nightmares."
However, it sounds like it may not be a typical music video per se, as it's reported to be a 10-15 minute long short film.
From this brief description, the video sounds a lot like his work on Daft Punk's "Da Funk," which was titled "
Big City Nights
," and was basically just a short film with music in the background. Fans of Jonze may also recall that it was pretty awesome.
The video, or film, or whatever it is, is currently being edited, so a release date is still unknown. "Essentially, we've been editing it whenever we had time—it'll be a couple of weeks on and then a couple of weeks off. ... Nobody's making any money on it, so it's sort of like, 'Hey, let's get in there and edit on night and weekends,'" Jonze's friend and producer Vincent Landay told MTV. Jonze tends to work quickly, though, so it'd be a surprise if this wasn't out before the end of Summer.
For now, take another look at Jonze and West's last collaboration, "Flashing Lights":
Others Tagged With