Keira Knightley declines fourth Pirates movie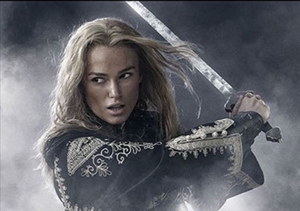 It was a faraway beach at sunset. Will Turner lightly kissed Elizabeth Swan's leg and headed out for 10 years of captaining the Flying Dutchman, and audiences of Pirates of the Caribbean: At World's End were left with more questions than answers. What would happen, the crowd wondered (perhaps skeptically, seeing that this was already a sequel to a sequel), in 10 years when the lovers reunited? Over the course of a lonely decade, would the loopy, eye-shadow-smeared embrace of Capt. Jack Sparrow start to look attractive to the husband-deprived Mrs. Turner? We were less worried about young Will; not too many women aboard the Flying Dutchman. Although a teaser following the credits showed Elizabeth and her son awaiting Will's return, nothing was set in stone.
Sadly, the original Miss Swan, Keira Knightley, won't be onset to find out. Reportedly, the 23-year-old actress has declined an invitation to star in the fourth Pirates of the Caribbean movie. The British leading lady says, "It was a completely fantastic experience, and it was an amazingly large portion of my life, but I don't think I need to go there again. I think that it's done."
Despite the steamy beach scene and savvy Capt. Jack Sparrow, many movie goers sympathized with Knightley's sentiment. Reviews were mixed about the dark, twisting plotlines of the third Disney film. While some
lauded
its Hitchcock-esque confusion, others
thought
the film (and the series) was too long. It was, after all, a movie based on a sequel based on a Disneyland ride. Many simply let out a deep breath when the credits rolled, glad that the film managed to tie up most of its loose ends, and satisfied to walk away from the Caribbean swash-bucklers forever.
However, the fourth film is
on its way
. According to
Cinema Blend
, the latest iteration will focus on Johnny Depp's Sparrow exclusively, casting aside the Will/Elizabeth story. Geoffrey Rush and director Gore Verbinski are allegedly also on board for a tale that centers on the mythical Fountain of Youth. The site claims that this will be a jaunt into sci-fi pirate land, but that has yet to be determined.
Others Tagged With