Michael Jackson's belongings to go up for auction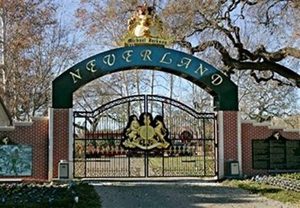 On Wednesday, April 22, Julien's Auctions will begin a massive auction of Michael Jackson's treasures. A catalog published by the company shows Jackson dressed as an opulent monarch sporting a gold crown and lace collar. Complete with the caption, "The Collection of the King of Pop," this depiction isn't too far off. Like Louis XVI or Marie Antoinette, Jackson has built a decadent bubble around himself in the form of his fanciful mansion, Neverland, down to the throne, suit of armor, crown and capes that were reportedly found in his bedroom.
But like those tragic figures, Jackson's kingdom is crumbling. The auction company will be putting many of Jackson's most iconic items up on the block, from his jeweled
glove
to the ornate gates guarding the Neverland Ranch. It will be a sad day for the Pop King, who, due to amassing debts, was forced to give up the deed to his ranch and mansion last year.
On top of losing his estate, Jackson has struggled with myriad health problems and scandals over the last decade. He is undergoing a comeback, however, according to our
reports,
and playing a series of London and (possibly?) global shows for his final tour. Of course, if
ticket scalpers
have their way, it will be pretty difficult to go and see Jackson go out with a bang. Those of us without $10,000 for a ticket may have to appease ourselves by purchasing a pair of Jackson's rhinestone socks from the auction,
allegedly
selling for $800.
Others Tagged With