Natalie Portman, Madeleine Albright join A Powerful Noise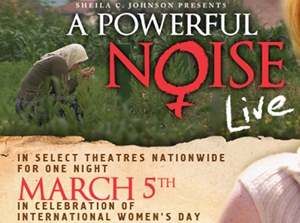 This Thursday, March 5,
A Powerful Noise
,
the acclaimed documentary that reveals the struggles of three women living in Mali, Vietnam and Bosnia, will screen to 450 theaters nationwide with a panel discussion simulcast live following the film.
The simulcast will be broadcast live from New York City and include actress Natalie Portman; former U.S. Secretary of State Madeleine Albright and Pulitzer Prize-winning journalist Nicholas Kristoff, amongst others. Theaters screening the simulcast will be used create town-hall meetings on ways to improve the situations of women across the world. While women enjoy relatively equal rights in the U.S., most Third World countries still find women lacking basic rights, access to education or even health services.
About the women in
A Powerful Noise
: Hanh, living in Vietnam discovered that she had AIDS after the disease claimed the lives of her husband and children. She started a support group for HIV/AIDS patients to provide counseling and healthcare services. From Bosnia, Nada is a working mother of three who started a women's association to help mend her war-torn country and Jacqueiline fights forced labor practices in the slums of Mali. 
You can also aide the cause by joining the Tweet-a-thon sponsored by National CineMedia Fathom. The event is March 2 -- 5, and makes a donation of ten cents to the global humanitarian organization CARE for every tweeter entry including: #powerfulnoise (please note that the pound symbol must be present for the donation to count). Find more information
here
. 
Others Tagged With