N.W.A. biopic, Straight Outta Compton, on the way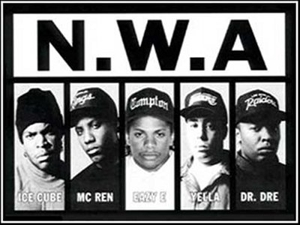 Do you remember a young, bright-eyed Ice Cube with a pout on his lips—years away from starring in cheesy family comedies—rapping the words, "Fuck the police?" Doesn't a part of you kind of want that Ice Cube back? It seems we may get to revisit nostalgic memories of the pioneers of gangsta rap, N.W.A., in a new biopic Straight Outta Compton.
The movie is set to be produced by Dr. Dre, Ice Cube and the widow of Eazy-E.
Straight Outta Compton
follows on the heels of the Biggie biopic,
Notorious,
the announcement of a Run-DMC film and a
possible Tupac Shakur biopic
. Besides their anti-cop anthem, N.W.A. is notable for selling loads of records, despite relatively little radio airplay due to their strong lyrics. Their albums were also among the first to carry the distinctive Parental Advisory warning. (Thank you,
Tipper Gore
.)