Paste's Hour-By-Hour SXSW 2009 Music Recommendations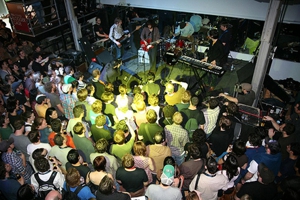 With hundreds of bands converging upon Austin and what seems like a zillion shows to choose from, planning a South by Southwest schedule can be a daunting task. Last year, we tried to make some sense of it all by offering up our hour-by-hour recommendations list. This year we done did it again—but that's not all! We're hosting three day parties (M. Ward, Indigo Girls, Daniel Johnston, Passion Pit, The Avett Brothers, Heartless Bastards, The Wrens, Samantha Crain, many more, oh my!) this week, covering the festival in various ways on the Festivus blog, and anticipating that coverage with all sorts of great SXSW-related stuff right here on these interwebby pages. It's a lot to take in, but we know you're good for it. Enjoy, and here are our SXSW 2009 music picks, conveniently split up by day:

[Wednesday] [Thursday] [Friday] [Saturday]
Wed. March 18
12 p.m. - Anni Rossi (Ms. Bea's) - This classically-trained violinist with a decidedly modern sensibility has been pegged as the new Andrew Bird. We're still pretty happy with the old Andrew Bird, but excited to check her out.
1:30 p.m. - Amanda Palmer (Radio Room) - We've shown the Brechtian Dresden Doll attention in our pages, and we've got her playing our party. Come see what all the fuss is about.

2 p.m. - The Deep Dark Woods - This folky four-piece from Saskatoon just released its latest album, Winter Hours. The band's timeless, haunting tunes feature frontman Ryan Boldt's deep, mournful voice and lovely harmonies. And in times like these, who can't relate to Boldt's lament of "All The Money I Had Is Gone"?
3 p.m. - Hockey (Peckerhead's) - There's a mini-movement of soulful new-wave rock out there with bands like Chester French, Black Kids and the Virgins. Look for these guys to join their ranks very soon.
4 p.m. - Elvis Perkins in Dearland (Mohawk) - Here's a rare chance to go see a show and beg to hear the new stuff—Perkins' new record is stupendous. He and his wizened band update traditional country and folk in a way that makes one feel proud to be American (but not in a xenophobic way).
5:15 p.m. - Rolo Tomassi (The Peacock) - These female-fronted UK metal-urgists, playing the Cannibal Cheerleader party, win this year's band-name contest with their ode to the faceless murderer in L.A. Confidential.
6 p.m. - Box Elders (Ms. Bea's) - Garage rock trio from Omaha, Neb., that plays catchy rock 'n' roll with a pop fringe. The band's live show features a drummer who handles percussion and keyboards, as well as two brothers who aren't afraid to flaunt their flowing blond hair.
7:30 p.m. - B.o.B (Fader Fort) - Atlanta rapper B.o.B is a multi-threat artist who produces, arranges, raps and mixes his own and other artists' music. Since a young age, B.o.B has landed producer and guest spots because of his unique rapping style—a mix of party like Outkast and tough like DMX.
8 p.m. - Jucifer (Emo's Annex) - Jet-engine-volume rock isn't always our thing. But good God—you've never seen a show until you've seen this pair power through a set, with their thunderous wall of amps towering above the crowd. Don't forget those earplugs.
8 p.m. - A. Armada (Soho Lounge) - With the word "armada" in their name, one expects this band's music to dominate the listener. Instead, the tunes they create feel like sailing through a billowing dreamscape that climbs on echoing notes.

9 p.m. - Starfucker (Radio Room) - This Portland quartet produces songs of Animal Collective-grade structure. The band's highly-engineered electronic texture adds countless layers to its simple, dreamy lyrics and the effect is startling—frenetic and moody all at once.
10 p.m. - The Ugly Beats (Habana Calle 6) - Austin natives The Ugly Beats conjure up memories of '90s garage bands—but in a good way. Their energetic live shows and folk-rock tunes make them a very fun band to see live.
10:30 p.m. - Dosh (Mohawk) - The beatmaker who helped ignite the looping-pedal frenzy in Andrew Bird is like the Bob Ross of musicmaking—skillfully blending live drums, samples, and vocal bits to create an awe-inspiring whole "portrait" for the ears.
11 p.m. - Modern Skirts (Cedar Door) - Yet another awesome Athens, Ga., band, the Modern Skirts defy genres by surprising the listener with irregular music constructions and hidden gems within the liner notes. Paste has been following them since 2005, and with good reason.
12 a.m. - Blind Pilot (Submerged) - Maybe it was the rising gas prices, but this duo took off on a West Coast bike tour last year. They hauled all their equipment without the assistance of motorized vehicles, playing small towns where they exposed the townspeople to their songwritery folkitude. Comparisons of their sound to that of The Shins seem inevitable.
12 a.m. - Magic Magic (Spiro's) - There's something about Magic Magic's twin drum kits. Dylan Gough and Mike Hlady complement each other as they bang along to an almost mystical rhythm. But that's not the only special thing about the quintet; their constant experimentation with string instruments creates strong, unique melodies topped with John Murphy's haunting and poignant lyrics.
12 a.m. - The Decemberists (Stubb's) - Hear their new album, The Hazards of Love, performed live and in its entirety for the first time.

1 a.m. - Brick Bandits (Speakeasy Kabaret) - If you get into an indie-rock rut, this New Jersey (ya heard!) DJ collective will shake things up. Dig the Fox NFL theme song remix, and start getting hyped.
1 a.m. - Pong (Room 710) - Sci-fi whammy pedal synth sounds. Check. Cowbell. Check. Tentative minutes-long intros. Check. Speaker box. What the hell else do you need?
Thurs. March 19
11 a.m. - Flatstock poster show (Austin Convention Center) - After a night full of music, crawl out of bed a little early Thursday morning and head to the American Poster Institute's Flatstock for some of the best retail therapy money can buy—a showroom full of artists from across the country hawking their amazing gig posters.
12 p.m. - Women (Urban Outfitters) - Weirdo beardo lo-fi Canadian rock that's drawn comparisons to early Velvet Underground.

12:45 p.m. - The Low Anthem (Home Slice Pizza) - The Low Anthem's harmonica-and-string-flavored ballads are as haunting as they are gorgeous. This group of Providence up-and-comers knows how to break your heart and make you smile at the same time.
1 p.m. - Loch Lomond (SESAC Day Stage @ Austin Convention Center) - Portland's Loch Lomond builds its tunes into glorious chamber folk that should resonate with fans of Iron & Wine or Bon Iver. Singer Ritchie Young started the band as a solo project in 2003, but since then the group has ranged from one to 10 members. Loch Lomond's song "Field Report" has been on repeat in the Paste office.
2 p.m. - BLK JKS (The Parish) - We've already hyped this band in the Emergent section of last year's International Issue, but it doesn't hurt to remind you that they rule. If their shape-shifting studio tracks are any indication, the live show should be bonkers (and you can check it even if you're not in Austin, thanks to NPR's live coverage). Expect blown heads.
2:30 p.m. - Laura Gibson (Jovita's) - Laura Gibson truly lives up to her new label; "Hush" perfectly describes her sound. On her latest album, Beast of Seasons, the Portland singer-songwriter croons in a voice so quiet, it's almost a whisper. But if you cock your head, cup your ear, and listen in, you'll find her ballads well worth blocking out the rest of the noisy world.
3 p.m. - Port O'Brien (Peckerhead's) - During the summer, Van Pierszalowski works on a commercial salmon fishing boat off Alaska's Kodiak Island, and Cambria Goodwin works as a head baker in nearby Larsen Bay. But the rest of the year, they make quirky, timeless music that's made fans of M. Ward and Johnny Marr.
3:30 p.m. - Justin Townes Earle (SESAC Day Stage @ Austin Convention Center) - Steve's son brings a mighty fine swagger of his own to outlaw country-Americana. On the surface, Justin Townes Earle sounds old-school. He's also covered The Replacements. That gives you an idea of where he's coming from and his wide range of influences. Highly recommended.

4 p.m. - Titus Andronicus (Urban Outfitters) - At times sounding like the Clash's self-titled debut with Paul Westerberg on vocals, this Jersey quintet's unrefined, dirty-sounding guitars and charmingly sloppy vocals are desperately needed in today's over-produced industry mindset.
5:10 p.m. - The Urges (Blue Velvet Vintage) - Think psychedelic vocals and progression mixed with punk instrumentation and energy, and that's about all you need to know before you see Dublin's The Urges.
6:45 p.m. - Lissy Trullie (Fader Fort) - New York singer/songwriter/guitarist/fashion icon Lissy Trullie commands attention with her deep, throaty voice and does one hell of a Hot Chip cover. Androgyny has never looked—or sounded—so good.
7:45 p.m. - The Rural Alberta Advantage (Central Presbyterian Church) - Last year, the RAA self-released its arresting 13-track debut, Hometowns. The album, about "hometowns and heartbreak," includes the two-and-a-half minute closing gem "In the Summertime." This Toronto three-piece had blogs abuzz throughout 2008 with one question: How is this band still unsigned?
8:25 p.m. - Mt. St. Helens Vietnam Band (Mohawk) - What do you get when you mix a blonde husband-and-wife-duo, a 13-year-old drummer, and tons of syncopated, indie-meets-ska beats? Mt. St. Helens Vietnam Band, apparently. With a name like that, it's hard to not be intrigued.
9 p.m. - Lisa Hannigan (The Parish) - Earlier this year, Damien Rice's former sidekick crafted a lovely album, Sea Sew, full of whimsy and soft voices. Hannigan is sure to make even the biggest concert feel intimate.
9:30 p.m. - Thao With The Get Down Stay Down (The Parish) - And in the other corner of The Parish: Finger-pickin' guru and beatboxing badass singer/songwriter (and Paste favorite!) Thao Nguyen and her spirited band of merry men.
10 p.m. - Wild Light (Emo's Main Room) - Wild Light have written the hands-down catchiest song of the year, "California On My Mind"—as long as you can get past its shiny, happy, filthy chorus. The band's live shows are more raucous than the album, but the melodies still shine through.
10:30 p.m. - Casiotone for the Painfully Alone (Ms. Bea's) - CFTPA, a.k.a. man-behind-the-machine Owen Ashworth, has been toying with his formula of lonely beats + heartripping speak-singing, resulting in a glorious new sound that retains the intelligence but lightens up the mopery a bit. His upcoming album, Vs. Children, features an ingenious use of the old standard "When the Saints Go Marching In."

11 p.m. - Hyperpotamus (The Hideout) - Spain's answer to Rahzel is a one-man a cappella wunderkind who isn't serving up your daddy's doo-wop. Incomprehensible and disparate guttural noises find themselves strung together seeking unison, and oddly, while lacking harmony, still find it. Explore the chasm of cantankerous human sounds churned up from the depths of the vocal chords (near yodels, chicken sounds, kazoo) and discover that in combination, they're pretty darn catchy.
12 a.m. - Brother Ali (Habana Bar Backyard) - This albino rapper is known for his multilayered lyrics, which he spits out quicker than a snake flicking its tongue. But his skewered witticisms are so deeply personal, he keeps you hooked on each word.
12 a.m. - Passion Pit (Emo's Main Room) - This year's buzziest band will be playing all over Austin, but it's worth the effort to squeeze into one to for soft electronic beats that wrap you up like a warm blanket. Plus, lead singer Michael Angelakos's wildly careening voice is one of the most unique we've heard since Mike Patton's wildman yowls fronting Faith No More.
1 a.m. - Fight Like Apes (The Rio) - The group's latest EP, You Filled His Head With Fluffy Clouds and Jolly Ranchers, What Did You Think Was Going To Happen? is a riotous, punkish explosion, with MayKay's exasperated vocals squeaking with delight.
1 a.m. - Le Castle Vania (Barcelona) - One of Atlanta's most excellent DJs takes his glitchy, gloomy—and highly danceable—turntable skills to Austin. It's only Thursday! Get that ass on the floor!
Fri. March 20
12 p.m. - Parenthetical Girls (Habana Calle 6 Annex) - This Portland quartet loves to mesh ambient strings with lyrics about wide-eyed, sexual angst. Listening to the group's latest album, Entanglements, is akin to reading Ginsberg's Howl, where "angel headed hipsters" wander through the haze seeking answers and finding only questions. As with that counterculture classic, Parenthetical Girls drag you through their androgynous, postmodern confusion with lyrical brilliance.
1 p.m. - Bishop Allen (Mohawk Patio) - These Brooklyn indie poppers expanded their horizons by making a very musically clever third album. Though they resemble an upbeat version of The Shins at times, they have various catchy (but strong) tracks that feature several string instruments. The band's spankin'-new album, Grrr..., is just what you want to hear on a Sunday afternoon while enjoying the weather and a snack.
1 p.m. - Loney Dear (Club Primos) - Loney, Dear was the perfect companion for Andrew Bird on tour. With Dear John, Loney, Dear reaches a point of intimacy with his inner struggles. Loneliness carries from one song to the next, with melodies that caress your ears and fill your heart.

2 p.m. - Madi Diaz (The Tap Room at Six) - Six years ago, she was a musical prodigy featured in the Paul Green Rock School documentary. Now she's a 22-year-old songwriter who makes lovely indie folk pop with partner Kyle Ryan. Plus, she does a country cover of Whitesnake's "Here I Go Again."
3 p.m. - Blue Scholars (Peckerhead's) - The names Sabzi and Geologic are street currency in grey Seattle, and not just for hipsters bored with Gibbard. This hip-hop duo really knows how to work a crowd, dropping some top-notch rhymes while they're at it.
4 p.m. - Felice Brothers (Dirty Dog Bar) - Washboards, harmonicas, accordions, tattoos—three brothers and a couple of friends from New York's Catskill Mountains play some pretty convincing vagabond tunes. You'll be thinking of hittin' the road in no time.
4:30 p.m. - Richard Swift (Mohawk) - Supposedly Swift's upcoming album Atlantic Ocean was recorded in Wilco's Chicago loft using an analog recorder that Jeff Tweedy sold to Swift. If that story isn't enough to entice you, check out how the swooping synthesizer gives the music an artificial heart that bumps and beats. The jaunty thoroughfare of two-timing synth is guaranteed to complement a hook that demands dancing.
5 p.m. - Delta Spirit (Mohawk Patio) - Matthew Vasquez leads this San Diego quintet with his passionate vocals, belting, "My love is coming I can barely hardly wait / My heart is thumping I can feel it more with every beat" on fan favorite "Trashcan," during which, yes, the lid of a trashcan is played. Expect a few new tunes from these guys in Austin.
5:50 p.m. - The Coathangers (Whole Foods Market Rooftop) - Atlanta girl quartet The Coathangers have an undeniable chemistry that translates into great energy and music. They evolve every time you see them, changing their voices and who plays what. Their lyrics make you want to start a party and let go of all the stress of your day, and what better time and place than 5:50 p.m., on a Friday, on the roof of Whole Foods?
6 p.m. - Nico Vega (Tiniest Bar) - There's not much more to say about this trio of musicians from L.A. that can't be viewed on a YouTube clip of them playing live. Expect an animated performance by foxy vocalist Aja Volkman, and a range from slowed down whispers to strained near-screams.
7:30 p.m. - These Modern Socks (Iron Gate Lounge) - A band name swiped from a Mr. Show sketch is almost always a surefire sign of awesome. The Minneapolis popsters of These Modern Socks pair smart lyrics with a whimsical rockness and a willingness to experiment with twisted sounds.
8 p.m. - The Painted Birds (Volume) - These Vancouver indie rockers are named after the highly controversial 1965 novel by Jerzy Kosinski. The themes from the book are reflected in their lyrics; the group tackles hatred and perversion, as well as other taboo topics, creating tracks that are emotionally intense but also rich with melodies.
8:40 p.m. - Yuppies (Headhunters) - Fans of crowded, beer-soaked basement house shows will love Yuppies' fuzzy, lo-fi sound. Expect a high-energy show from the trio, and don't be surprised if you see frontman Boogs play the keyboard with his face.
9 p.m. - Wildbirds & Peacedrums (Antone's) - This Swedish husband-and-wife duo forge thunderous jazzy, soulful compositions from simple drums and vocals—but the space they fill with just the two of them could carve whole new caverns of sound.
10 p.m. - The Ettes (Mohawk Patio) - Not the Ronettes. Not the Marvelettes. Not even the Raveonettes. Just the Ettes, and they have an early CBGB's thing going on with sassy frontwoman Coco leading the way.
11 p.m. - Superdrag (Pangaea) - Although they emerged shortly after Weezer in the midst of the whole mid-'90s geek-rock thing, John Davis and his bandmates had a string of very distinct albums. And after a lengthy hiatus, they're finally back. Celebrate good times, c'mon!
12 a.m. - St. Vincent (Antone's) - Annie Clark will debut songs from Actor, her new lovely, fuzzy album, in her native Texas. We're psyched to see her again.

12:50 a.m. - The Queers (Red 7 Patio) - One of the few people who can actually say he does punk rock—and punk rock only—for a living, frontman Joe King and his (ever-changing) band have become a staple in the genre, pretty much offending everyone and every minority/majority along the way. Vulgar, politically incorrect, loud, catchy and fast: the way punk should be.
1 a.m. - Shearwater (18th Floor at Hilton Garden Inn) - The Texas natives in Shearwater never fail to captivate with the heady combination of Jonathan Meiburg's skylight-scraping voice and a huge cabinet of instrumental curiosities. Bonus: The band will be debuting some songs from the upcoming album they've been working on.

Sat. March 21
12 p.m. - SXSW Interview: The Hold Steady (Austin Convention Center) - The Paste favorites have had a hell of a ride, emerging from both Minneapolis and the ashes of Craig Finn and Tad Kubler's former band, Lifter Puller. With new DVD A Positive Rage due next month, count on some engrossing stories from the best (and most polarizing?) band of the late '00s.
1 p.m. - Venice is Sinking (The Sidebar) - Athens, Ga.'s Venice is Sinking rivals the best ambient rock bands. The harmonies and orchestral feel of the tracks transcend their genre, making it not simply slow music, but experimental, uplifting, and fascinating.
2:15 p.m. - Harlem Shakes (Red Eyed Fly) - These friends of Deerhoof just rocked our office, and now we are obsessed.
3 p.m. - Deastro (Club Primos) - Young man from Detroit (Randolph Chabot) gets restless, creates entire album (last year's incredible Keepers) with tools at his disposal—mostly computer, synth and voice—and incites hyper-jubilant dancing in anyone within earshot.
3:30 p.m. - Janelle Monae (Peckerhead's) - She's like an updated female version of Prince—absolutely commanding on stage with quirky but accessible pop songs and an insane amount of soul. Catch her before she's playing arenas and piling up Grammys.
4 p.m. - The Love Language (Peckerhead's) - Howling, bouncy indie rock from North Carolina.
5 p.m. - Dear & The Headlights (The Purevolume.com House) - Piano-driven rock hasn't sounded this urgent (and, OK, slightly emo) since Ben Folds Five.
6 p.m. - The Bird and the Bee (Waterloo Records) - This L.A. duo spins sweet ditties out of the gossamer of singer Inara George's voice and the synths of producer/keyboardist Greg Kurstin. They've also had a video directed by Eric Wareheim (of Tim & Eric) and a highly memorable fan-created clip (for "Again & Again") that demonstrates the total radness of the Mac application Time Machine.
7:40 p.m. - White Lies (Stubb's) - The London trio's debut, To Lose My Life..., hit No. 1 on the charts in the U.K. Not a bad start for a group of 20- and 21-year-olds. The video for the band's current single, "Farewell to the Fairground," is reflective of White Lies' sound—dark and moody.
8 p.m. - Funeral Party (Emo's Jr.) - This foursome from L.A., currently on the road with ...Trail of Dead, constantly garners comparisons to The Mars Volta. Funeral Party puts on a show filled with dancy tunes infused with youthful energy, which can be heard on the band's current release, Bootleg EP.
9:30 p.m. - Eugene Mirman (Esther's Follies) - Look, you're in Austin, and surrounded by nubile young things who want to meet other nubile young things. Why not go getcha some advice from the (Mir)man himself? The NYC comedian is a certified "sexpert," after all.
10 p.m. - Ezra Furman and the Harpoons (Submerged) - Gordon Gano's playing SXSW, too, but if you miss him, this young gun from Chicago may be the next best thing. Or even better.
11 p.m. - ...And You Will Know Us By the Trail of Dead (Emo's) - The Austin stalwarts may have shifted the lineup around a bit over the last few years, but they're still as gnarly—and artsy—as ever and should get a boisterous response from the hometown crowd.

12 a.m. - HEALTH (Mohawk Patio) - They're loud. Really, really loud. And noisy. But that's what makes the L.A. quartet so engaging. Definitely for people who enjoy intensity.
1 a.m. - Monotonix (Mohawk Patio) - The members of the Tel Aviv trio, typically clad in short shorts and sporting magnificent mustaches and heads of hair, are known for their crazy antics at shows: refusing to be confined to a stage, throwing beer and trash, stage diving and lighting stuff on fire. These guys are a must-see for sure.
We couldn't have put this together without the wonderful Sched.org, where you can create, print, link to, or embed your own schedule. Happy SXSW-ing!