Depeche Mode, Jane's Addiction, Beastie Boys to headline Lollapalooza, allegedly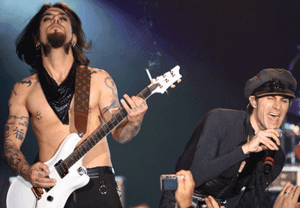 According to
Chicago Tribune
music critic Greg Kot, Lollapalooza's headliners this year will include Depeche Mode, Jane's Addiction and Beastie Boys. Kot writes, "
Though promoters would not confirm the information Friday, multiple sources inside the industry said the three headliners are a lock for the festival." According to

Billboard

, Kings of Leon will join the line-up as well.

With no official announcement just yet, Lollapalooza's
website
is no help in confirming Kot's statement. Radiohead, Rage Against the Machine and Kanye West (2008's headliners) still stand out in bold print against a swirling, starry background.
The festival, now in its 18th year, will be held at the same time, same place in 2009: Grant Park, Aug. 7-9. If Kot's statement is fact, this will be a homecoming for Perry Farrell, who helped found the festival and played its debut in 1991.
But not everyone sees it this way. The sentiment of the
Chicago Sun Times'
snarky headline, "Lollapalooza parties like it's 1992," is echoed elsewhere in the blogging community. Since Kot announced the listing, a slew of discontented comments has sprung up on many sites, including Stereogum. User name The Red Feather posted one of the kindest: "I guess I'd SEE all these acts, but I wouldn't be happy about it. More time to skip out early and get ice cream I suppose."
Lollapalooza's handlers are expected to officially release this year's line-up in April.
Others Tagged With