Art Brut and Black Francis confirm battle with Satan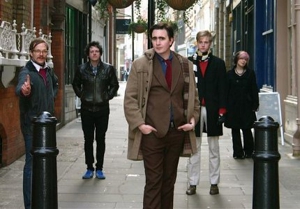 Back in December, Art Brut frontman Eddie Argos blogged about how his band was working on its next album, Art Brut Vs. Satan, with Pixies frontman Frank Black/Black Francis. Now, we have more details. And of course, the typically quotable Argos was happy to provide more news fodder with a recent statement:

"We recorded the album in a punk-as-fuck two weeks in Salem, Ore.," he says. "We spent a day getting the sound of the instruments perfect, then with all of us in the same room at the same time, with the amazing Black Francis conducting us, we pressed record, jumped around and played our songs. This is how I always thought albums were made, and it's definitely how we're doing it from now on!"

The group's third album will be released May 12 in the States. The first single will be "Alcoholics Unanimous," and the tracklisting is as follows:

1. Alcoholics Unanimous
2. DC Comics and Chocolate Milkshake
3. The Passenger
4. Am I Normal?
5. What a Rush
6. Demons Out!
7. Slap Dash for No Cash
8. The Replacements
9. Twist and Shout
10. Summer Job
11. Mysterious Bruises

Related links:
News: Frank Black takes on Satan with Art Brut
News: Art Brut and EMI part ways
Art Brut on MySpace

Got news tips for Paste? Email news@pastemagazine.com.

Others Tagged With