Seinfeld's fab four to appear on Curb Your Enthusiasm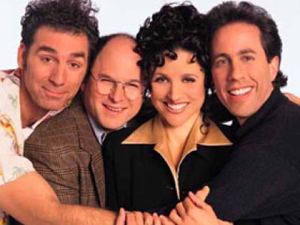 For those of you elated by the news that Jerry Seinfeld will return to basic cable and then disappointed by the premise of his upcoming show, this story might cheer you up. Entertainment Weekly reported recently that Jerry Seinfeld, Julia Louis-Dreyfus, Jason Alexander and even Michael Richards (despite his recent controversial outburst) will have appearances in multiple episodes of Larry David's Curb Your Enthusiasm.
Curb Your Enthusiasm star and creator David was the basis for the character George Costanza on Seinfeld, in addition to writing for and co-creating the show. No premiere date for the episodes or the seventh season of Curb Your Enthusiasm has presently been released. Previously, Louis-Dreyfus and Alexander made cameos on the HBO show. This will be the first time in 11 years that the four have appeared on a television show together.
Others Tagged With