Stephen Colbert may get space-station namesake honor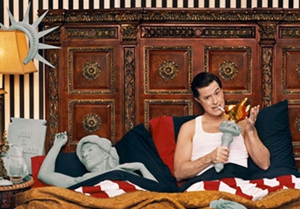 Stephen Colbert already has a spider, a bald eagle and a Ben & Jerry's flavor (Stephen Colbert's Americone Dream) named after him. For most people, that would be enough, but the comedian with the perpetually raised eyebrow is shooting for the moon—literally. He's just won a landslide vote to have a room in NASA's International Space Station christened the "Colbert."

NASA administrators urged the public to vote on a name for one of the living rooms aboard the craft in a recent online contest. One of the options, Serenity, would have matched nicely with the Unity and Harmony rooms. But NASA also allowed write-ins alongside the pre-named options. So when Colbert urged fans to write in his name and 230,539 voters complied (dwarfing Serenity by close to 40,000 votes), NASA was a bit surprised.
But this does not mean NASA will comply. Company spokesman John Yembrick
said
NASA will decide in April, and though it will give top vote-getters "the most consideration," it still reserves the right to name the space station room whatever it sees fit. However, there are rumors floating around that, if Colbert doesn't make the final cut for the room, NASA may name one of
the toilets
onboard after the comedian.
In a statement filled with potty-humor puns, Yembrick said, "As for the toilet rumor, we don't want to flush away any goodwill by announcing something before we are ready."
Others Tagged With